This delicious side dish is not only simple to make, it comes together in 15 minutes! Fresh Swiss chard adds bright color and flavor to this dish. Creamy white beans adds a bit of silkiness with every bite. Swiss chard and white beans can be eaten as a side or you can sear off a boneless chicken breast to complete this meal.
I love growing Swiss chard in my garden. It's so colorful, especially if you grow the rainbow variety. Bright fucsia pink, lemon yellow and stoplight red stalks add a pop of color to the white beans. One benefit of using Swiss chard is that the stalks are edible. Unlike the woody texture of kale, mustard or collar greens. With a texture similar to celery but without the stringy texture.
Adding Flavor
The recipe below will have your taste buds smiling away, but I have a few suggestions to change this dish to compliment any menu.
Go Italian. Add in fresh chopped basil, garlic infused olive oil, and chopped tomatoes.
Mediterranean flavor. Chop fresh oregano, slice some

kalamata

olives and top with a bit of feta cheese.
Asian. Drizzle a bit of soy sauce, add a touch of miso paste and sprinkle a touch of Chinese 5 spice.
Homegrown is Best
Growing Swiss chard does not take a green thumb, but it takes a bit of planning. This is a cool season vegetable, you will plant the seeds indoors to grow a seedling about two weeks before the last frost. Once the seedling is growing strong and the chance for freezing nights have passed, transplant it into a deep pot or straight into your garden. Yes! You can grow this green in a pot, just remember the leaves will grow over 12 inches in height and it can become top heavy so use a sturdy pot to grow it in.
Looking to add this bright and delicious leafy green to your fall garden? Sow the seeds straight into the ground once the daytime temperatures get back to under 80 degreed Fahrenheit. About 40 days before the first frost happens. You can check your growing zone and everything you could ever want to know about growing Swiss chard here, the Farmers Almanac has you covered.
Enjoy this fast and flavorful Swiss chard and white bean sauté with your next meal. Here is a tip for you, this side dish is fantastic served hot but it's even more flavorful if you make it the day before and serve it as a cold side salad at your next barbecue.
White Bean and Swiss Chard Sauté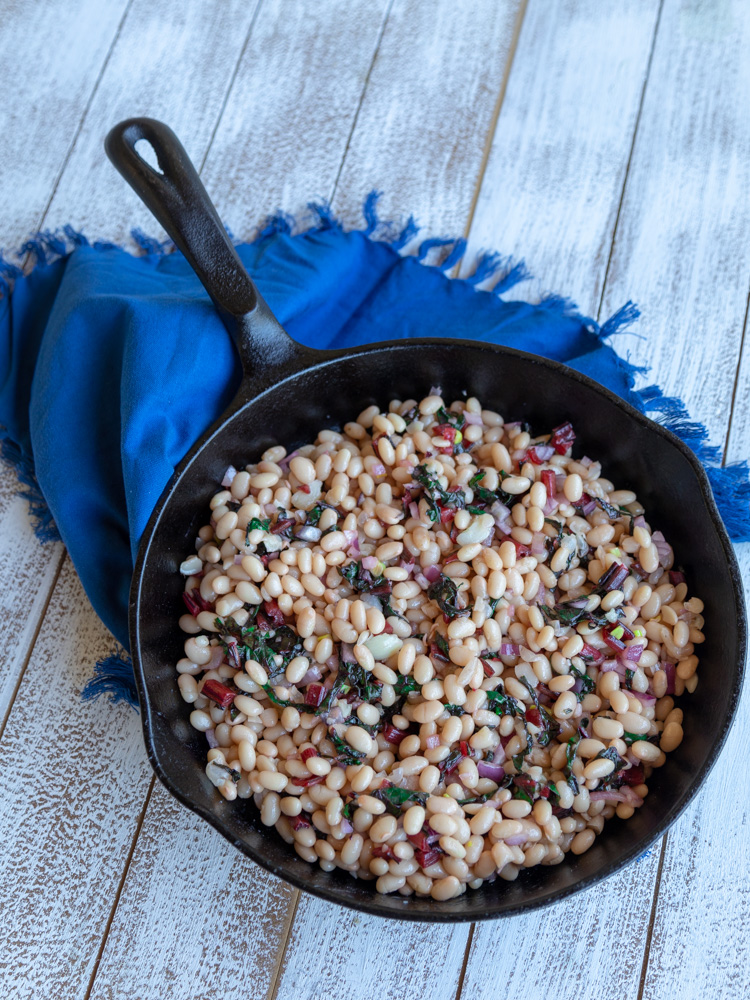 Ingredients
1 medium onion, chopped
1 bunch Swiss chard, leaves removed and rough chopped, stalks chopped
1/2 tsp dried red chilies
1 15 oz can of white beans, drained and rinsed
1/2 cup chicken stock
1/4 cup olive oil
1 tsp kosher salt
1/2 tsp granulated garlic or 2 fresh cloves, minced
1/2 tsp freshly ground pepper
Instructions
In a large skillet over medium-high heat add the olive oil, heat until shimmering.
Add the chopped onions and sauté for 2-4 minutes or until translucent.
Add the Swiss chard stalks and sauté for 2-4 minutes or until soft.
Add the red chili flake, garlic, salt and pepper, stir well.
Add the Swiss chard chopped leaves and sauté for 2-4 minutes or until soft.
Add the white beans and 1/4 cup of chicken stock, cook until bubbly 5 minutes. If all the stock absorbs add in the additional 1/4 cup, heat until bubbling.
Serve right away.
7.8.1.2
121
http://thecampgroundgourmet.com/white-bean-and-swiss-chard-saute/