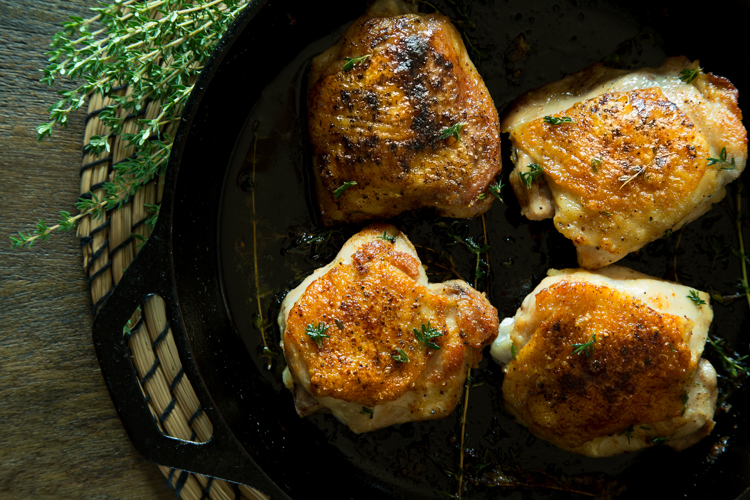 Cast iron cooking is an iconic campground staple, but it can be pretty intimidating if you don't know what you're doing.
And many of us don't. 
Sure, we've seen the pretty pictures of a dutch oven over a crackling campfire. And we want that authentic camp cooking experience. But we've also heard people talking about seasoning their pots and pans, cleaning with kosher salt, and debating between traditional and enamel finishes. It can all feel a bit overwhelming.
There are two main types of cast iron:
1. Enameled cast iron – ie: Le Creuset (1925), Staub (1974), Martha Stewart (2007)
2. Bare Cast- iron – ie: Lodge (1896) , Wagner (1891-1953), Griswold (1865-1957)
Enamel is a glaze that is applied to cast irons surface it creates a coating on the outside and on the inside that prevents rusting and there is no need for seasoning best for slow cooking and it can have acidic foods cook in it for long periods of time. This is a non reactive, low stick surface.
Bare Cast Iron is one of the oldest used tools for cooking, this cookware can handle direct fire cooking as long as it is properly pre heated. This was the traditional hearth and home cooking tool. Used by campers and home cooks all over the world. It is a reactive metal with high acid foods ie- spaghetti sauce simmered all day.
We don't all need the dozens of cast iron pots and pans that Kate owns, but to build a basic workhorse set she recommends buying:
This is your EVERYDAY cast iron camping or home kitchen piece. From Herb Cheddar Biscuits to Herbed Pork Tenderloin, this skillet will become a staple in your kitchen!
Make sure you season!
2. 3.2 Quart Cast Iron Combo Cooker from Lodge
3. 4 1/2qt Le Creuset Oval Dutch Oven with Griddle lid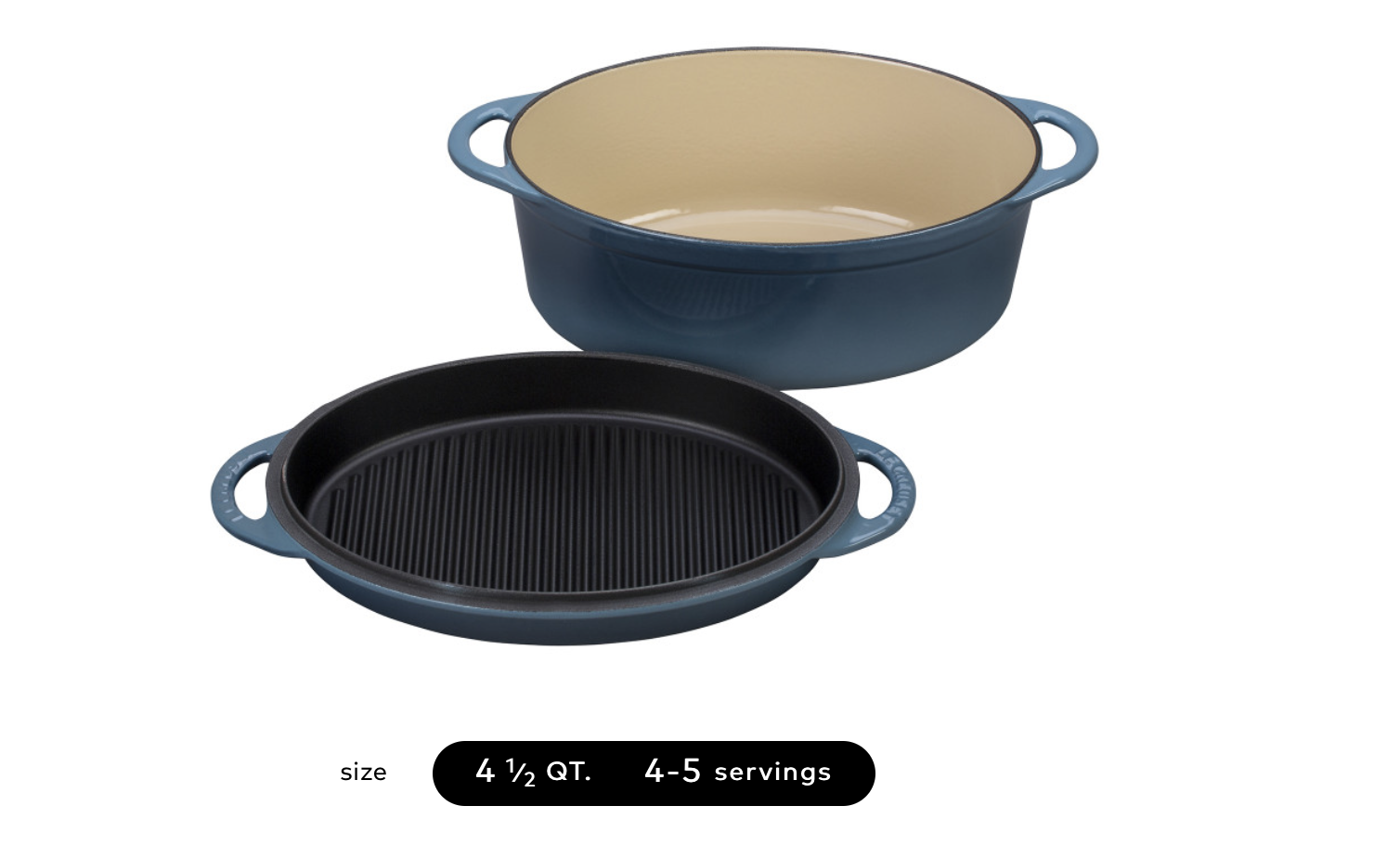 This oval Dutch oven with reversible grill pan lid does double-duty in the kitchen. Long recognized for its strength and durability, cast iron is the prime material for slow-cooking, braising and roasting, thanks to its ability to maintain even and consistent heat. Over time, the grill pan's slightly abrasive enamel will develop a natural patina that is ideal for searing and frying. Neither the base nor the lid need seasoning, and they are both suitable for stovetop and oven use.
Features
Colorful exterior enamel is shock-resistant to prevent chipping and cracking
Sand-colored interior enamel has a smooth finish that promotes caramelization, prevents sticking and resists stains
Matte black interior enamel is specially formulated for higher temperatures, and promotes the development of a patina to enhance cooking performance
No seasoning required
4. 14″ Cast iron Wok from Lodge
The
Lodge Wok
is made of 100% cast iron, which retains heat better than other metals, making short work of everything from Asian stir fry to a summer vegetable saute. The flattened bottom is ideal for all cooking surfaces including induction.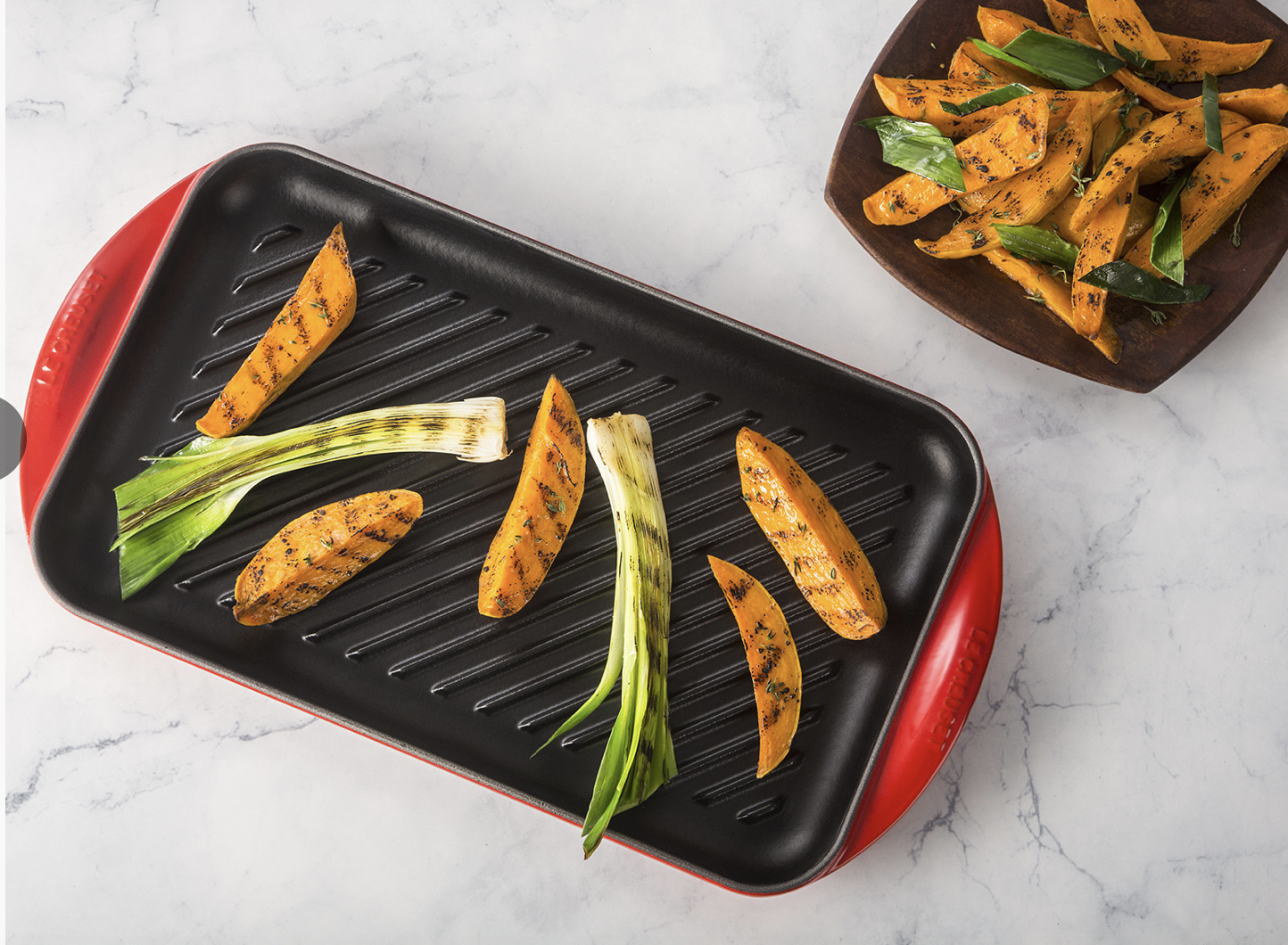 With its roomy cooking surface that fits neatly over two stovetop burners, the Extra-Large Double Burner Grill is the perfect solution for rainy days when outdoor grilling is impossible. The elongated cooking surface can accommodate steak, vegetables, chicken, shrimp or fish. Ridges create attractive char lines and impart a smoky flavor, while draining away excess fat.
Features
Matte black enamel cooking surface is ideal for grilling or searing, and doesn't require seasoning
Even heat distribution and superior heat retention
Ergonomic handles make for easy lifting
Colorful, long-lasting exterior enamel resists chipping and cracking
And for those of you traveling with the Coleman Double Burner this will fit right on there!!
Tips for seasoning:
The most important part of your cast iron cooking routine is the cleaning and seasoning. Rule of thumb is not to use soap for every day cleaning, only salt and a scrub pad then dry it thoroughly and season it well with a non reactive high heat oil.
Seasoning oils, good to use, high smoke point
Grape seed
Canola
Vegetable Shortening
Oils not recommended for use
Low smoke temp, can go rancid, does not react well to cast iron.
Olive Oil, any type
Nut oils; walnut, pecan, almond, coconut and pecan
Butter
How to season your cast iron pots and pans
Clean/Scrub skillet well in hot soapy water.
Dry it thoroughly then place on stove top burner over medium low heat for 10 minutes.
Turn heat off, add 1-2 tablespoon of grape seed oil. Wipe the oil with a paper towel all over the skillet, from the handle to the bottom side of the pan, be careful, its hot!
Place skillet in a cold oven, upside down on the middle oven rack and set your oven to 400°. (Place a sheet pan on a lower rack to catch drips.)
Bake 1 hour, turn oven off, let cool completely.
Your cast iron is seasoned!
For more tips on Cast-Iron care check out this post from RVFTA .