Sweet & Spice Bourbon BBQ Sauce
This bbq sauce has a bit of sweet a hint of heat and a touch of smokiness. Perfect with beef, chicken, vegetables and pork, when grilled over flavorful hard wood. Make this sauce a day or two in advance to develop deeper and brighter flavors.
I love Bourbon, not only do I love to drink it, I love to cook with it. Adding a unique American spirit to sauces, braises, marinades and seasonings make for a delicious meal. A chance food tour had me visiting Kentucky's Bourbon Trail two summers in a row. Honestly, after putting one foot in a Bourbon rick house (where barrels age) they had a hard time pulling me out.
The history, lore and science of blending corn, barley, wheat, malted barley, rye, water, yeast and time blew my mind. Tasting the head, heart, and tail of the distillation process was truly unique. The complex flavors, natural sugars and that warmth… Lessons I received at Buffalo Trace, Makers Mark, Limestone Branch, Boundary Oak, and Wild Turkey were that not all Bourbons are the same.  The ingredients may be similar but char on the barrel, the mix of the mash, the water and then the aging process can drastically alter its flavor profile.
Changing the Flavors
Just like Bourbon, BBQ sauce can shift its flavor by doing simple changes with to the ingredients. If you mix all the ingredients together without heating it, you will get one bold and strong flavored bbq sauce. But, if you heat the sauces ingredients and allow the flavors to mix, swirl, and settle for the few days before you were planning to use it, magic happens. The sweetness mellows, the heat from the red chili balances and the acidity from the mustard brightens the entire sauce.
Add in more molasses to increase the sweetness, choose a bold and smoky bourbon like Balcones Brimstone to boost that deep smoke flavor. The possibilities are endless, whatever you do, enjoy making this rich and flavorful BBQ sauce. I promise your steaks, chicken, smoked turkey and pork chops will taste delicious.
Sweet & Spicy Bourbon Marinade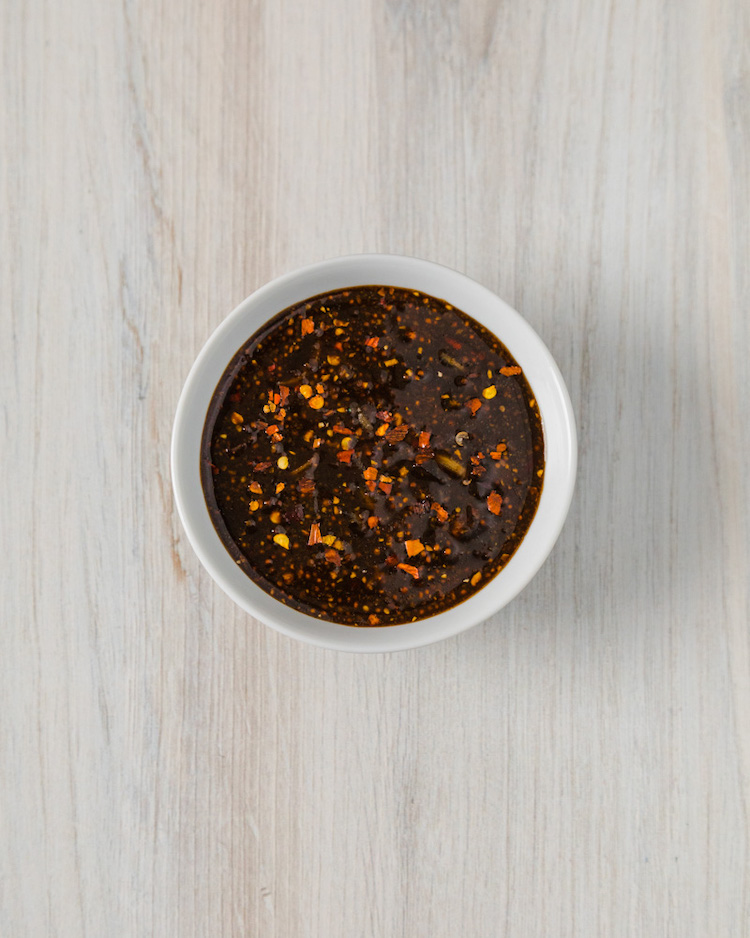 Ingredients
½ cup Makers Mark or Woodford Reserve Bourbon, not Rye.
¼ cup molasses
2 Tablespoons Worcestershire sauce
2 Tablespoons honey mustard or deli mustard
1 medium yellow onion thin sliced
1 teaspoon fresh ginger minced or ¼ teaspoon powdered
¼ teaspoon dried red chili flake
Instructions
Mix all ingredients in a bowl, pour over protein that is in a zip top bag. Marinate 6-12 hours. Remove protein and discard all the remaining marinade.
7.8.1.2
72
http://thecampgroundgourmet.com/sweet-spicy-bourbon-marinade/