Sweet Spice Waffles
Delicious and full of warm spices, these waffles are soft in texture, rich in flavor.
What Are Warm Spices
When you think of Fall what flavors come to your mind? Cinnamon, nutmeg, clove and ginger? Well there you have it, the four spices that lend their warm flavor this recipe.
We love to go camping in the Fall with the crisp mornings and cool evenings and the smell of our campfire is pure bliss.
Saigon cinnamon is what you want to use in this recipe, it's bright, intensely fragrant, spicy and used by most bakers. You can find my personal favorite at the Savory Spice Shop. Nutmeg has a fresh, rich aroma and a woody slightly bittersweet flavor. Ceylon clove is my next pick, it has a bright and spicy flavor. It also has a high essential oil content that perfumes your batter when the oils are heated.
Ground ginger finishes the spice mix with its light, peppery, lemon aroma with a hot, spicy and sweet flavor.  These spiced waffles remind me of a soft gingersnap cookie, but with a nice crisp crunch and fluffy inside.
Warm, cozy, comforting and truly a breeze to make, warm spiced waffles will be your go to breakfast or dinner at the campground.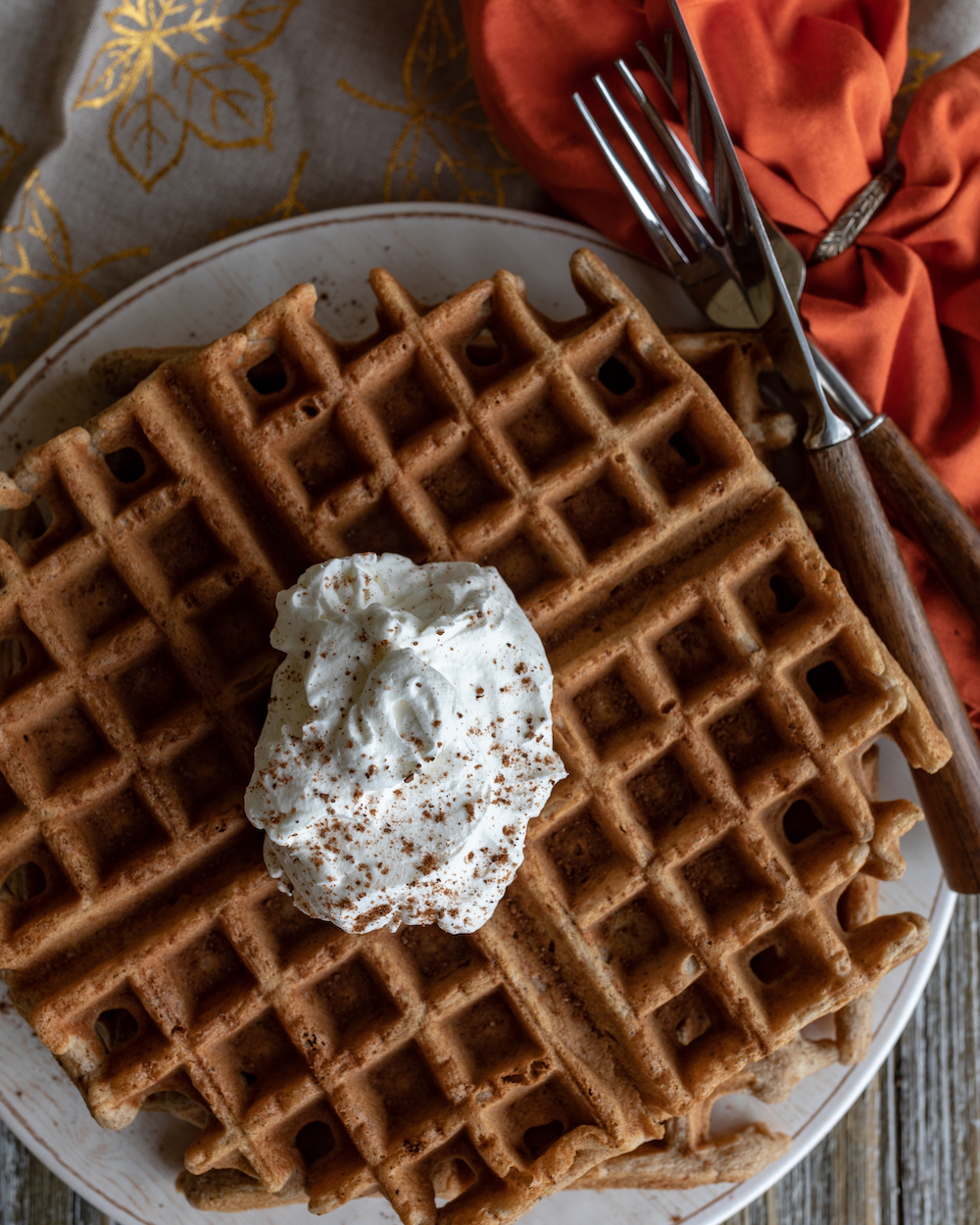 Ingredients
2 cups unbleached all purpose flour
3 tablespoons granulated sugar
4 teaspoons aluminum free baking powder
½ teaspoon salt
1 teaspoon ground cinnamon
¼ teaspoon ground ginger
¼ teaspoon ground nutmeg
Pinch of ground clove
2 large eggs, room temperature
1 ½ cups room temperature whole milk
4 tablespoons unsalted butter, melted and cooled
½ teaspoon pure vanilla extract or vanilla bean paste
Instructions
Pre-heat your waffle iron; make sure to spray some non-stick spray on the iron while it is cold.
In a large bowl sift together all of the dry ingredients, set aside.
In a medium bowl whisk eggs for 1 minute, add milk and mix well. Add butter slowly while mixing and continue for 30 seconds after the last of the melted butter is poured into the mixture.
Pour the wet mixture into the dry mixture and stir well until all the liquid is absorbed, there will be lumps.
Pour ¼- ½ cup of the batter onto the hot waffle iron surface, cook until golden brown and slightly crisp.
7.8.1.2
48
http://thecampgroundgourmet.com/sweet-spice-waffle/