Rich and bright in flavor, slightly spicy and a meal that comes together in 30 minutes. Sign me up! Shakshuka is a one-skillet tomato and egg meal that the whole family will enjoy.
Originally a North African dish, Shakshuka has traveled the globe from culture to culture. Many enjoy this dish for breakfast in Israel, lunch in the Middle East and throughout the day in America. Cooking tomatoes over high heat along with sliced onions and garlic develops a rich caramelized flavor. Besides the rich tomatoes and onions, dried herbs and spices are added. Finally, just at the end, whole eggs cracked into the rich sauce and cooked to perfection.
Additional Flavor Choices
Tex-Mex. Add one 15 oz can of drained and rinsed black beans, swap the can of tomatoes for 28 oz of Rotel. Finish with a bit of cilantro and queso fresco cheese.
Italian. Add in sautéed sweet Italian sausage, a good handful of torn basil leaves and a few spoonfuls of fresh ricotta cheese.
Vegetarian. Add a can of drained and rinsed white beans, sauté zucchini, yellow squash, eggplant and sliced green onions.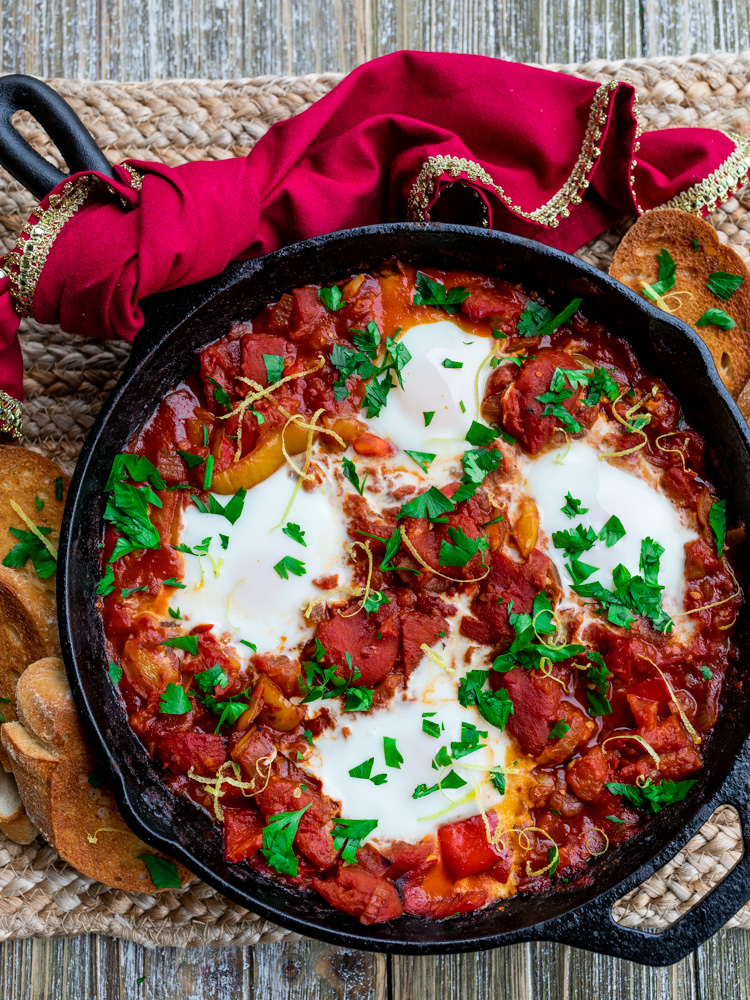 Ingredients
1/4 cup olive oil
1 medium yellow onion, thin sliced
4 cloves garlic, chopped
1 large red bell pepper, sliced into strips
3 tsp ground cumin
2 tsp sweet paprika
1/2 tsp mild red pepper flakes, or more to taste
2 Tbsp tomato paste
28 oz can tomatoes, (chopped, fire roasted, or whole) and the juice
1 1/2 tsp kosher salt
1 1/2 tsp Fresh black pepper, to taste
4 large eggs
2 Tbsp roughly chopped fresh parsley
Instructions
Heat olive oil in a large sauté pan over medium-high heat until the oil is shimmering, 2 minutes.
Add the sliced bell pepper and onion, cook for 5-7 minutes or until the onion becomes translucent.
Add garlic, spices and tomato paste, stir constantly, and cook 1-2 minutes.
Pour the can of tomatoes and juice into the pan. If you are using whole tomatoes use the back of a large spoon and break them down while cooking. Cook for 15 minutes, stirring to prevent burning.
Reduce heat to medium-low and use your spoon to make four (4) small wells in the sauce. Crack one egg into a small bowl, carefully pour that egg into the well in the sauce, repeat step three more times. Cover the skillet and cook for 5-8 minutes, or until the eggs are done to your liking.
Garnish with chopped fresh parsley, feta cheese or goat cheese.
This sauce can be made in advance and placed in your freezer up to 3 months. Simply defrost in the refrigerator the night before, heat until bubbling then add in the eggs.
7.8.1.2
120
http://thecampgroundgourmet.com/simple-and-delicious-shakshuka/