This rich and flavorful sausage and cheese biscuit recipe will be on your next camping or weekend menu, I promise. Savory browned sausage and sharp cheddar cheese fill every bite of the biscuit. Made with your basic pantry ingredients plus a few from the fridge, these biscuits come together in minutes.
Camp Cooking
I love when two ingredients come together, like biscuits and sausage. Once, when I was camping all I wanted was biscuits and gravy. But I didn't want to go through the hassle of the cleanup. I placed my camp Dutch oven over the fire and cooked up a bit of ground pork sausage. I added a few extra spices to bring out the rich and slightly spicy flavor it has. More black pepper, a bit of cayenne and then a touch of garlic, all items I have in my camper's pantry. To the flour for the biscuits I added a bit of grated smoked gouda cheese, added the cooked sausage, and poured in the buttermilk. Gently and carefully I mixed the ingredients then I turned the dough out pressed it a bit and cut out the biscuit rounds. I carefully greased the inside of my camp Dutch oven and placed the cut biscuits next to each other, covered the pot, added the hot coals and in about 15 minutes I was enjoying a savory biscuit with my coffee by a campfire.
Once I was home, I fine-tuned this recipe. I swapped the gouda for sharp cheddar cheese then I added a bit of dried chives. They add a light onion flavor to pair with the garlic. Then, I grated the frozen butter instead of cutting it into the flour. These changes helped develop incredible flavor, and a very tender biscuit. You can easily swap the sausage for cooked bacon, pancetta and crisp cooked prosciutto. The cheese can be any kind that you enjoy, jalapeno jack would add a fantastic bit of heat.
If you enjoy this recipe, the following would compliment it perfectly
Savory Sausage and Cheese Biscuits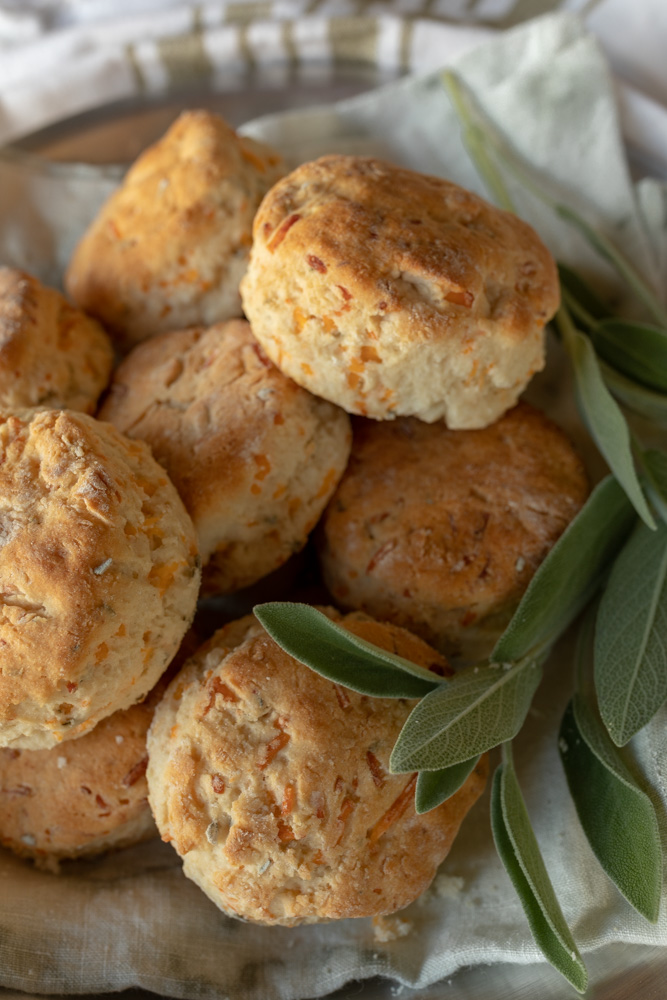 Ingredients
Makes 12-14
4 cups self-rising flour
1 cup unsalted butter, frozen
2 cup cold buttermilk
16 ounces cooked sausage, broken into small pieces, and cooled
½ cup shredded cheddar cheese, gouda or parmesan cheese
1 teaspoons dried chives
1 teaspoon dried parsley
1 teaspoon kosher salt
1 teaspoon ground black pepper
½ teaspoon granulated garlic
1/2 teaspoon dried sage
¼ teaspoon cayenne
Instructions
Preheat oven to 450 degrees F.
On a piece of parchment grate the butter using the large holes, place grated butter back into the freezer.
Heat a skillet over medium high heat, add the sausage to the pan and cook until its no longer pink. Use a wooden spoon to break up any large pieces. Remove the sausage from the pan with a slotted spoon and drain on paper towels.
In a large bowl, add the flour and shredded cheese, toss well to coat the cheese with flour, next add in the chives, parsley, salt, pepper, garlic and cayenne. Mix well.
Add the grated butter to the flour and quickly toss to coat.
Add in the buttermilk and mix with a wooden spoon until a soft dough forms.
Turn out onto a lightly floured surface and knead 3-6 times until the dough comes together.
Dust the rolling pin with flour and roll out the dough out into a rectangle shape and 1-inch thickness.
Using a sharp knife, cut 12 squares, place the cut biscuits on the lined baking sheet and bake for 15-20 minutes or until the top of the biscuits are golden brown.
7.8.1.2
112
http://thecampgroundgourmet.com/savory-sausage-and-cheese-biscuits/