What better meal than this savory Dutch pancake along with a crisp green salad on a warm summer night? Using fresh home-grown herbs or ones from your local farmer's market, I promise every bite will have you wanting more. Salty parmesan cheese, smoky bacon, and crisp sautéed mushrooms round out the flavors. Changing the traditional sweet breakfast Dutch baby pancake to a savory meal is quick and easy with my recipe below.
Additional Flavors
What if bacon and mushrooms are not your cup of tea? But maybe sautéed, onions, and sausage are. How about a veg loaded Dutch pancake? Sautéed zucchini, onions, mushrooms, eggplant and swiss chard. The flavor combinations are endless! You could sauté fennel and apples or how about kale, pine nuts and sliced red onions. One of my favorite flavor combinations to make is with sautéed mushrooms, chopped fresh tomato, torn basil leaves, parmesan cheese and lots of cracked black pepper.
I hope you enjoy this savory twist on the sweet breakfast classic.
Savory Bacon, Mushroom and Fresh Herb Dutch Baby Pancake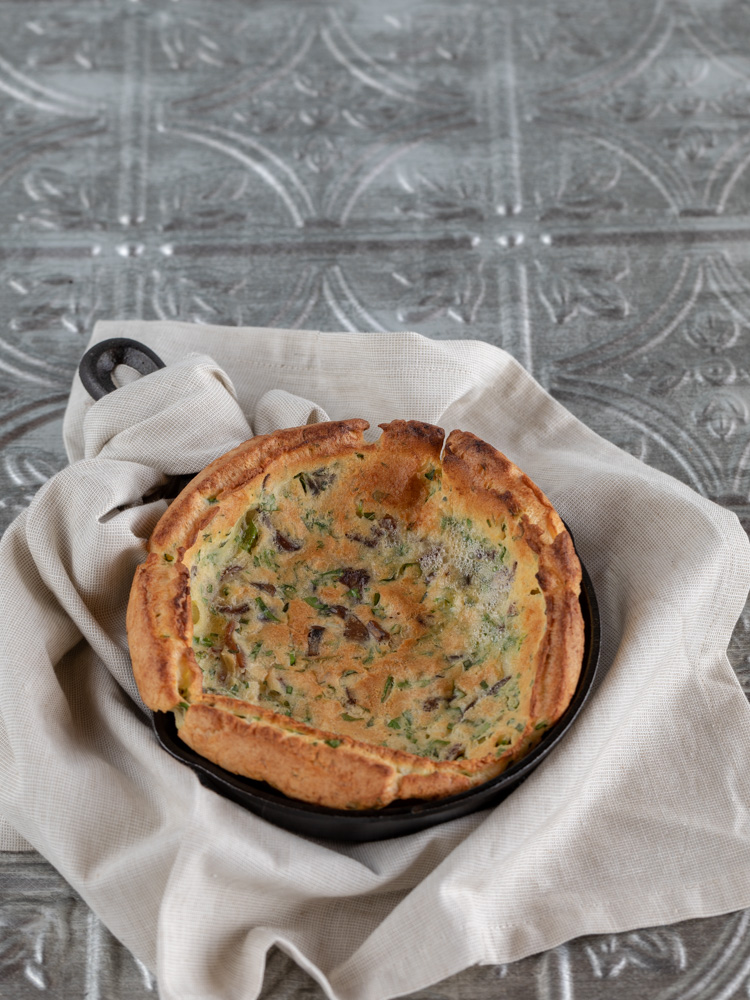 Ingredients
2 strips bacon cut into thin strips
3whole eggs
4 small cremini mushrooms, sliced thin
1 cup whole or 2 % milk
1 tsp kosher salt
1 tsp ground black pepper
1 cup unbleached all-purpose flour
1/4 cup grated parmesan cheese
2 tsp fresh parsley, chopped
1 tsp chives, chopped
1 tsp fresh thyme, chopped
1 tsp fresh basil, chopped
Instructions
Preheat oven to 425 degrees
In a large bowl add the flour and set aside.
In a medium size bowl add the eggs and milk, whisk to combine.
Add the salt, pepper, and fresh herbs, whisk until combined.
Add half of the egg mixture to the flour and whisk until smooth, add in the remaining egg mixture and whisk until smooth. Set aside.
Heat a 12-inch cast iron skillet over medium high heat on your cooktop.
Sauté the bacon in the hot cast iron pan until it is crisp and has rendered out all of the fat, remove cooked bacon and place on a paper towel.
Add sliced mushrooms to the hot cast iron pan with the drippings, cook until browned.
Add the bacon back into the hot pan with the mushrooms, pour the egg and flour mixture over the bacon and mushrooms. Give the pan a little shake then place in the hot oven to bake for
15-20 minutes, it will be puffed up and golden in color.
Carefully remove the hot pan from the oven, slice and serve immediately.
7.8.1.2
127
http://thecampgroundgourmet.com/savory-bacon-mushroom-and-fresh-herb-dutch-baby-pancake/