The Best and Rosemary and Mustard Marinade
This delicious and versatile rosemary and mustard marinade delivers bold flavors to grilled vegetables, poultry and fish.  You can make it ahead and kept it in the refrigerator for up to four days. 
Stone ground mustard with its coarse texture helps the marinade come together when you whisk all the ingredients together. It also adds a bit of spice and tang from the vinegar and natural spiciness. Fresh garlic has a sweet but strong spicy flavor that works perfectly with pork tenderloin or thick cut pork chops. Rosemary adds a bit of bright green color and a beautiful woodsy taste to the marinade. This ensures your food will have a rich Mediterranean flavor throughout.
What Food to Marinate
Bone in chicken thighs are perfect for grilling and the heat from the grill will release all the delicious natural oils from the ingredients. Slowly roast a marinated pork loin with red potatoes and onions in your dutch oven. Take par-boiled new potatoes, halve them and place the cut halves in a large bowl then drizzle the rosemary and mustard marinade over them. Give the potatoes a good toss and spread them evenly on a sheet pan and roast in a hot oven to crisp the outer layer of the potato.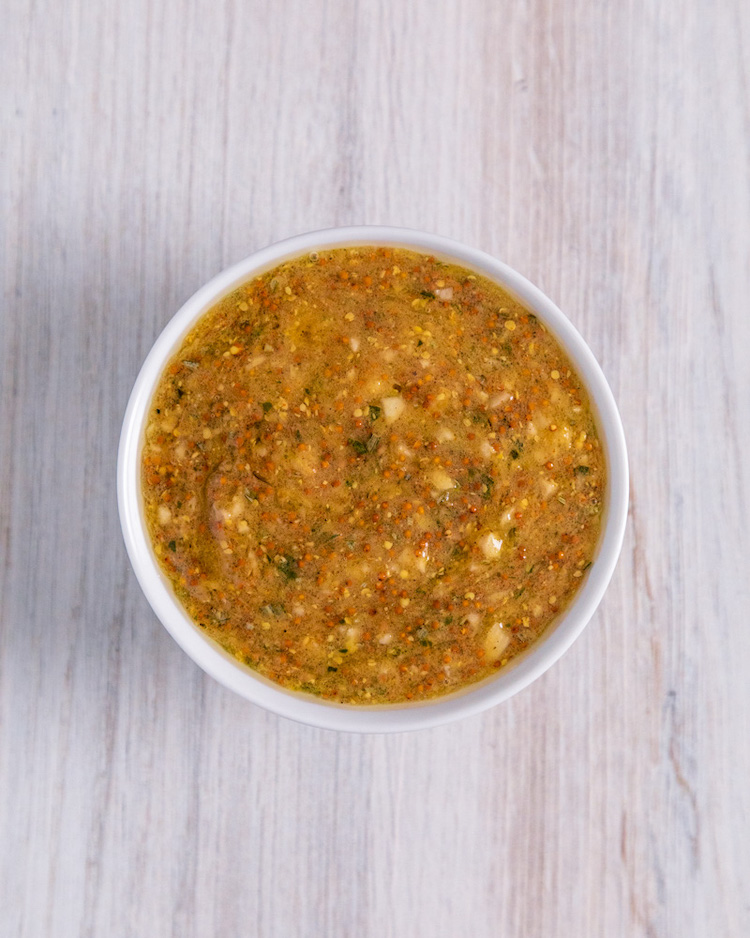 Ingredients
½ cup stone ground mustard
1 lemon zested and juiced
½ cup extra virgin olive oil
3 cloves garlic, minced
3 Tablespoons fresh rosemary, chopped
1 teaspoon Mrs. Dash seasoning
1 teaspoon kosher salt
½ teaspoon ground black pepper
Instructions
Mix all ingredients in a mason jar, tighten lid and shake well. Use on beef, chicken, pork, fish and vegetables. Will keep in a fridge for a week, marinade can be frozen.
7.8.1.2
76
http://thecampgroundgourmet.com/mustard-and-rosemary/