Simple and Flavorful Mahi-Mahi
Growing up I spent many summer vacations in the Hawaiian Islands with my mother, sister and grandmother. Waking up early in the morning and getting to the fish market was my goal, I wanted to see what was being brought into the auctions. Beautiful fish like opakapaka, ono, ahi, opha, and my favorite Mahi-mahi.  I somehow was always allowed to walk down on the docks and select my fish. Maybe those fishermen knew food would one day take over my world. Whatever it was, I gladly thanked them and knew what an honor it was to be allowed in that area.
Hawaiian Fish
Of all the Hawaiian ocean fish I believe Mahi-Mahi is the sweetest, firmest and possibly the most versatile. You can grill it, sear it, use it for tacos, steam it and cedar plank it. One of the easiest ways to prepare it is to layer a Mahi-Mahi fillet with lemons, Hawaiian salt and wrap it in foil.  Place that foil packet on a hot grill and cook for about 6 minutes. Once cooked, remove the foil packet from the heat and allow to rest for about 3 minutes before serving. Your fish will be moist and flavorful the vegetables will be tender and delicious.
Making foil packets is not only simple, but cleanup is a breeze. The intense citrus flavor of lemon just compliments the beautiful natural briny flavor Mahi-Mahi has. By add a touch of wine, old bay and garlic to those foil packets, you have one heck of a flavor packed meal.
Additional Ingredients
You can add thin sliced vegetables like: zucchini, string beans, bell peppers, onions, and Brussels sprouts. Season the vegetables and place on the bottom of the foil packet. Place the fish fillet on top of the vegetables and seal the foil up for grilling.
Mahi Mahi with Grilled Lemons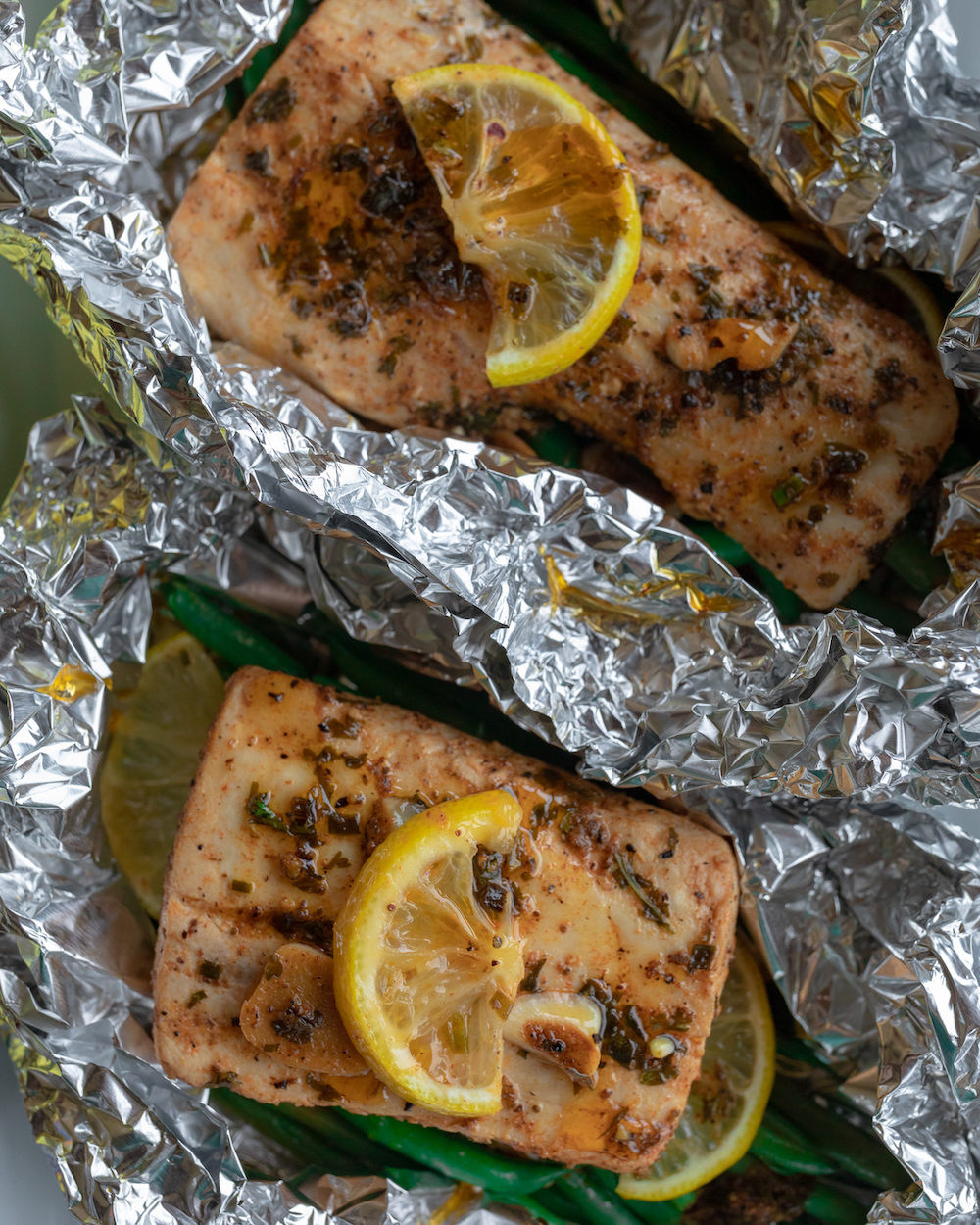 Ingredients
4 4-6 oz. pieces Mahi Mahi fillets
½ cup white wine (sauvignon blanc, pinot grigo)
¼ cup olive oil
1 lemon sliced, thin
2 tablespoons fresh lemon juice
4 teaspoons coastal seasoning (Old Bay, Chef Paul's)
4 cloves garlic, sliced thin
1 teaspoon fresh chives, chopped
1 teaspoon fresh parsley, chopped
½ teaspoon freshly ground black pepper
1 lemon sliced, thin
2 tablespoons fresh lemon juice
1- 12ounce bag French green beans
Instructions
In a small measuring cup mix olive oil, seasoning, lemon juice, chives, parsley, garlic, wine and pepper, pour into a pan and place the mahi mahi fillets in marinade, turn over to coat and place covered in the fridge up to an hour
Preheat grill to medium heat. Cut four, 16 inch long pieces of heavy-duty foil. Remove the pan with the fish from the refrigerator; divide green beans and place in the center of each foil piece. Place two lemon slices on top of the green beans, place the Mahi Mahi on top of the lemons and place two lemons on top of the Mahi Mahi. Add 1-2 tablespoon of the marinade to the top of each piece of fish.
Seal edges of foil tightly, allowing some space for heat circulation. Place on grill, cover and cook for 10-12 minutes or until fish is opaque and cooked though.
Serve immediately.
7.8.1.2
32
http://thecampgroundgourmet.com/mahi-mahi-with-grilled-lemons/