This is a 5 in 1 Cast Iron Cooking System
Grill, griddle, Dutch oven, skillet and pizza oven.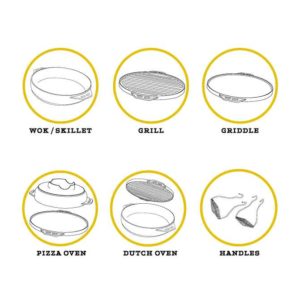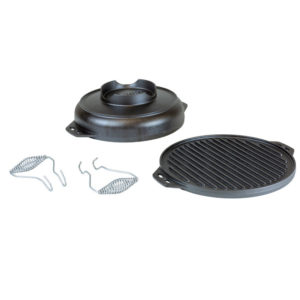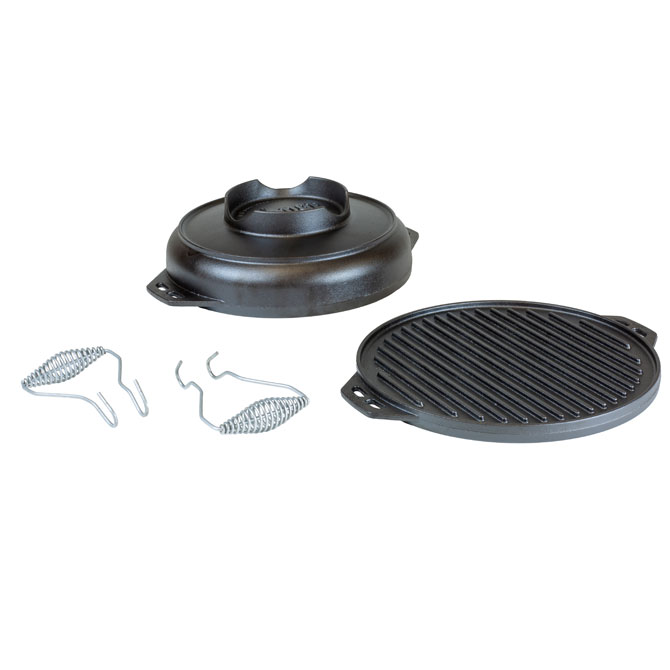 The Cook-It-All comes with two cast iron pieces, two handles for easy lifting and a guidebook with handy tips and tricks and recipes.
The Cook it all lid is a dual sided flat piece for your grilling or griddle cooking you can get perfect grill marks on your steaks, bread or chicken then on the griddle side your pancakes will be golden, bacon cooked perfectly or your pizzas will have that fantastic crispy crunch.
The second piece, your base or lid is a three-inch deep, 6.8-quart skillet. 
The edges have a slight curve to them, which makes it ideal for wok-style cooking or for braising.
On the base, there is a built-in circular leg, this helps elevate it from the coals. When you are Dutch oven cooking it allows air to move around the base for even heat. But the better part is that it helps prevent burning if your coals are too hot.
And it's also 14 inches wide; so you can feed a large crowd of campers, roast a whole chicken or sauté a large amount of vegetables.
When you place the griddle on top of the skillet, there is your Dutch oven.
Now, flip that skillet over. Place it on top of the griddle, and you've got an oven. Perfect for pizza, pork tenderloin, pies and so much more.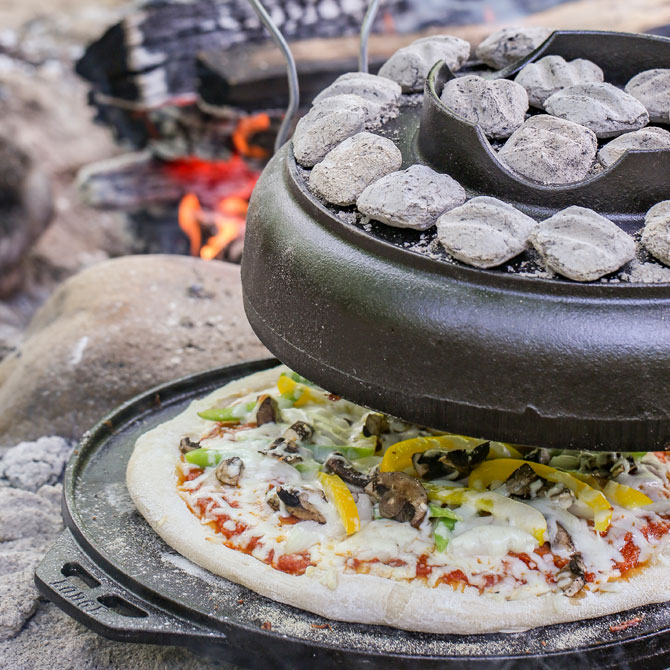 You can use wood, lump charcoal or charcoal briquettes as your fuel source. I have used it in my oven, if you do just make sure to place it on a sheet pan for stability and ease of removal. 
If you are at the campground there is an additional piece of equipment you can purchase to make the cook it all even more efficient and that's the Lodge Fire & Cook Stand.
When you use the two included handles, you can easily move the Cook-It-All from the fire ring right to the table. They simply loop into the holes on the sides of each pan.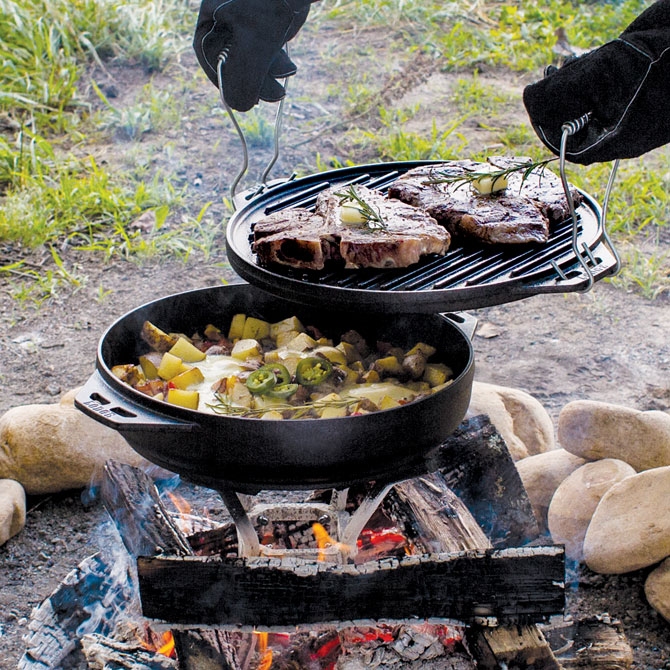 If you need to stir ingredients, or check on your food while cooking with the lid on just move the two pans together, align the holes. Take the handles and slightly twist; now you can safely remove the lid from the wok base. 
An additional safety tool would be Lodge's Leather Gloves, I love these for their all around the hand and wrist protection from the campfire. 
Now this would not be a Kate's recommendation with out a recipe. I have created my version of Arroz Con Pollo, which serves 6-8 hungry campers. This recipe is layered in flavor and cooks in about 45 minutes.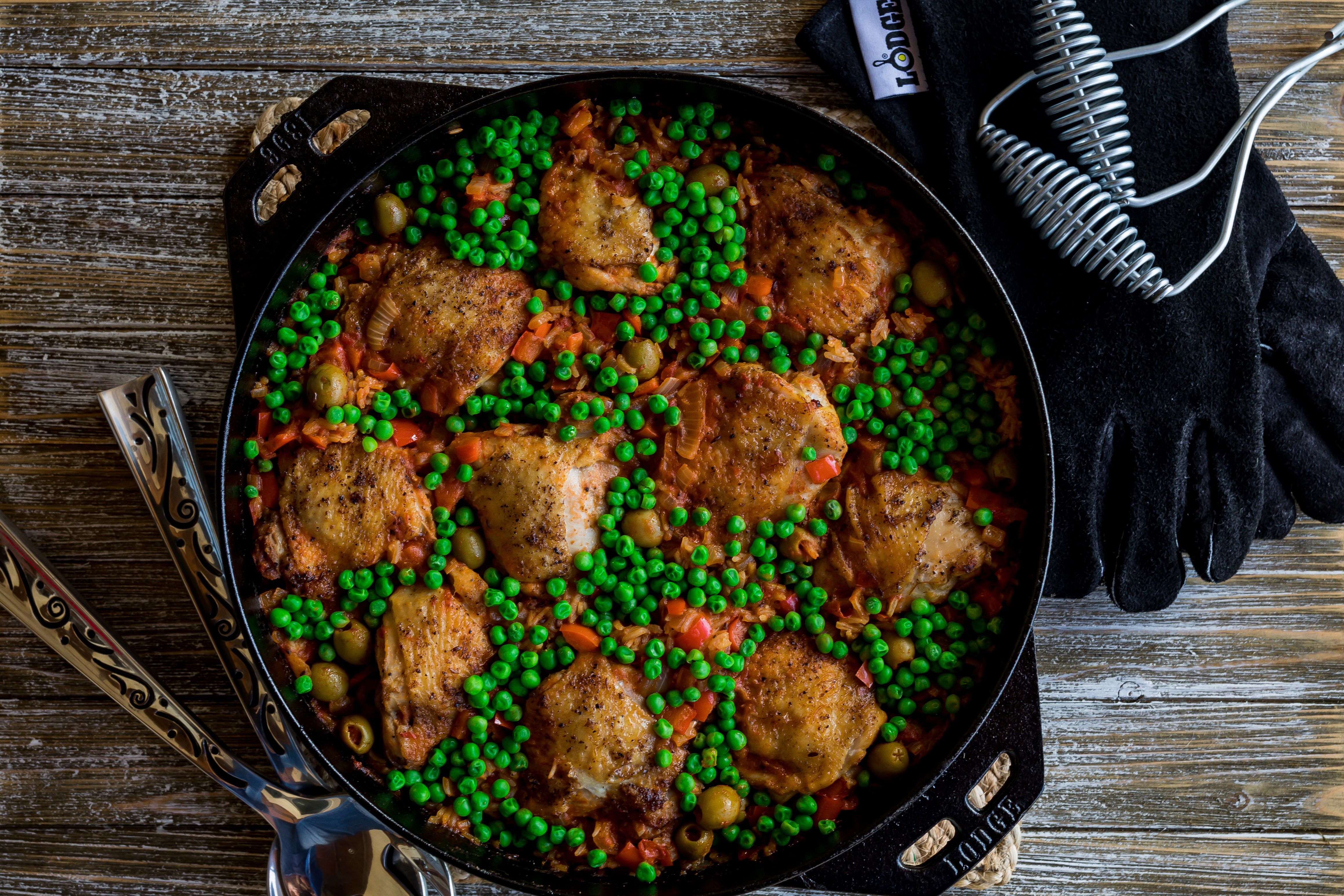 Your breakfast skillet potatoes & eggs, pancakes and bacon or get a bit fancy and make a frittata.
Lunchtime, well If you go to my recipe for wraps in The Campground Gourmet, the griddle side is perfect for that.
Dinnertime, I've made my gumbo, grilled steaks, bloody Mary chicken and pork tenderloin and chicken tika masala on it too. 
Check out the "UnBoxing" from Kate our Chef, with RVFTA
Happy Campground Cooking Friends!