Fresh and Delicious Grilled Romaine Salad
Changing it up
What's one way to take a plain and boring summer salad to a new level? By grilling the lettuce! This is a way to keep you taste buds and your friends and family happy and enjoying a new flavor to this bbq side dish.
When the romaine lettuce leaves are grilled just for a few moments, they develop a sweet char from the high heat of the grill. The crispness that develops, and the lightly smoked flavor will have you going back for seconds.
Types of Lettuce to Use
Romain lettuce is the most popular with grillers however radicchio, kale and cabbage are amazing choices too. The technique is the same no matter what type of leafy green you choose but for the woodier greens like cabbage and radicchio add an additional 5 minutes to the grilling time.
Making it a Meal
Topping the grilled salad greens with fresh summer tomatoes, good peppery olive oil, fresh herbs like basil, parsley, dill or tarragon then a bright zest of lemon will make this side dish a favorite with friends and family. For a complete meal, try adding grilled skirt steak, chicken breasts or even grilled salmon.
Technique
Here are a few pointers to help you with this dish:
Slice the head of lettuce vertically, or lengthwise.
Have a very clean and well oiled grill.
Medium-high heat will do the trick, the lettuce will sear and the smoke will infuse the lettuce leaves.
Don't forget good tasting olive oil and that fresh lemon zest. The key is the lemon zest will release more essential oils when added after the lettuce is cooked because of the carryover heat. The olive oil's natural pepper flavor will be brought out too.
Grilled Romaine Salad with Tomatoes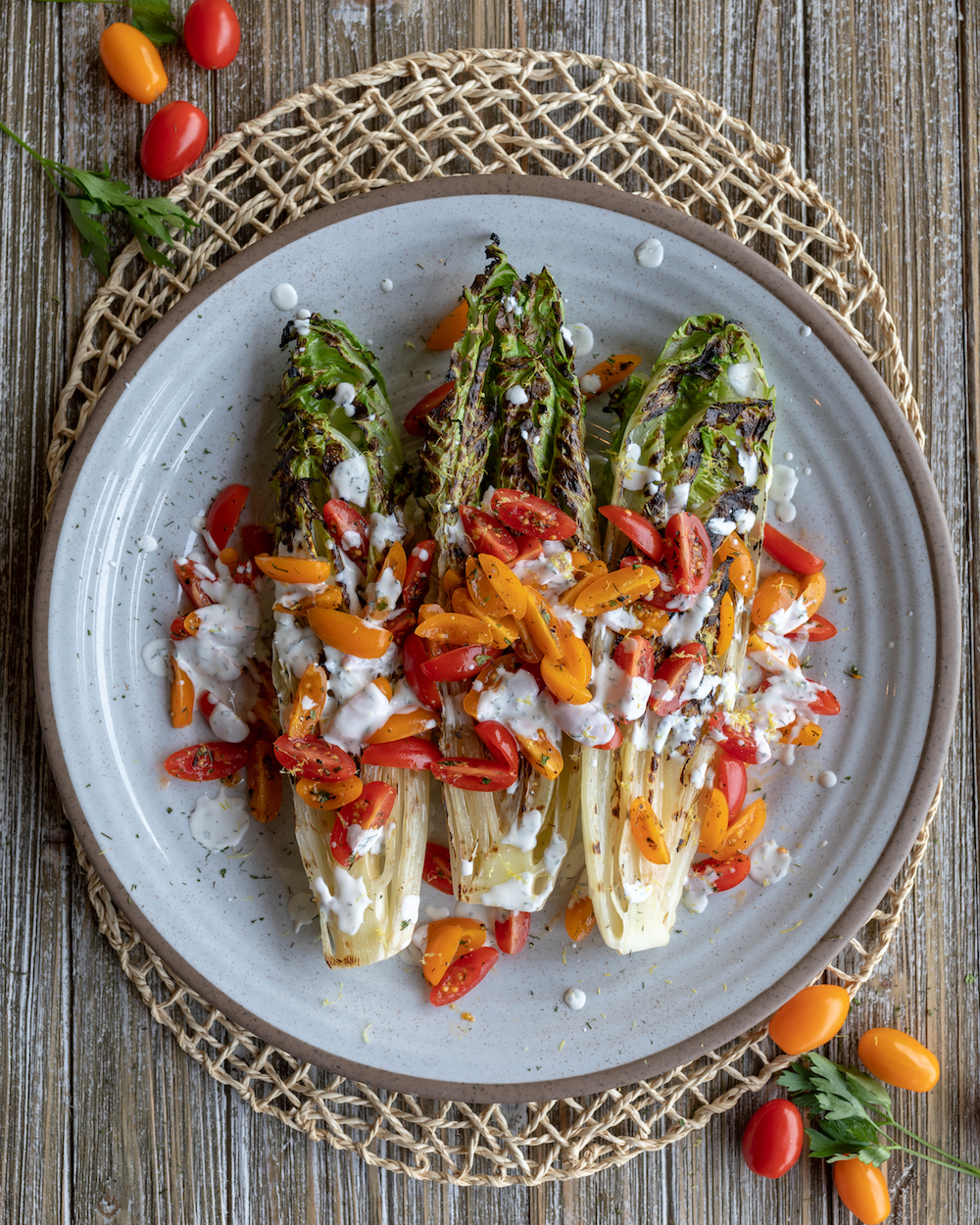 Ingredients
Olive oil for brushing the Romaine and grill
2 heads romaine lettuce, washed, dried, and cut in half lengthwise
2 cups mixed cherry tomatoes, quartered
2 tablespoons olive oil
1 clove garlic, minced
Kosher salt and freshly cracked black pepper to taste
Instructions
Heat a grill or grill pan over medium-high heat. Lightly brush the romaine lettuce on all sides with the olive oil. Set aside on a tray.
In a medium bowl, add the tomatoes, olive oil, minced garlic, salt and pepper; toss to coat, and then set aside to marinate.
When the grill has heated, carefully brush the grates with olive oil using tongs and a paper towel. Place the halved romaine hearts to the grill, cut side down, and grill for 3-4 minutes until slightly charred and beginning to wilt. Remove from the grill and place on a platter or tray.
To assemble the salad, lay the grilled romaine cut side up on a large serving platter, spoon the marinated tomatoes over the grilled salad, Drizzle the salad with Lemon Dill Dressing .
7.8.1.2
34
http://thecampgroundgourmet.com/grilled-romaine-salad-with-tomatoes/