Pesto is an ingredient that adds so much flavor to a dish it's unbelievable. What's fantastic about this recipe is that it can be a made in under an hour. From the time your campfire is ready to cook over or you home grill is prepped and ready, I've made this meal simple, delicious and bursting with flavor.
What is Pesto?
Pesto is a sauce that was originally created in Italy and made from the vibrant and flavorful fresh basil leaves. Olive oil, fresh garlic, pine nuts, and parmesan or pecorino cheese round out the ingredient list. Now by all means you can absolutely make your own pesto sauce but some refrigerated store bought fresh pestos taste just as delicious as home-made pesto.
I discovered pesto when I was very young, my Uncle Dusty who was Italian made sure all of us kids ate it and knew how to make it from the time we were 10.  I spent hours during the summer washing, drying, and sorting basil leaves by the end of the day I smelled Italian. What I loved is that he would add that bright green sauce not only to pasta but grilled steaks, fish and he would stuff it under the skin of a whole chicken then roast it. He would add a bit to salad dressings and then add a bit to a bowl of olive oil for us to dip crusty baked bread in.
Now from time to time when I make this recipe, I have left over skewers these are some meals I have created from those leftovers.
Quick Tip
Keep a few tablespoons of the pesto in a small bowl so you can add fresh pesto to your grilled skewers once you serve them, it's a fantastic addition. Enjoy. If you are looking for a fresh homemade pesto recipe you can find that here.
Grilled Chicken Pesto Skewers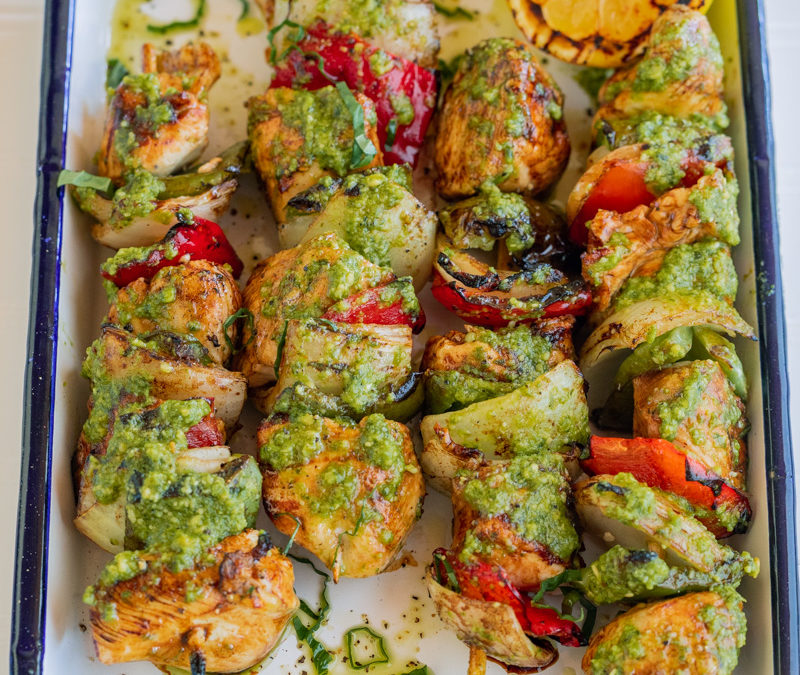 Ingredients
2 lb chicken tender cut in thirds
2 red bell peppers cut into 2" pieces
2 onions cut into 2" pieces
½ cup prepared pesto
8-10 skewers, metal or wood
Instructions
In a bowl add the cut vegetables and ¼ cup prepared pesto, toss to coat well. Cover and place in the refrigerator. You can do this step 24 hours in advance.
In a bowl add the cut chicken pieces and ¼ cup prepared pesto, gently stir to coat the chicken. Cover and place in the refrigerator while you prep your grill. You can marinate the chicken up to 24 hours in advance.
Light one charcoal chimney full of briquettes, once the coals are covered in a light white ash pour hot coals over the grill and spread evenly. Place top grill over the coals and heat for 10 minutes.
Remove the chicken from the refrigerator and thread the pieces on metal skewers along with the cut vegetables. If using wooden skewers, soak in water for 20 minutes so they will not burn on the grill.
Clean grill with a brush and oil the grates. Place chicken skewers on the grill cook 5-10 minutes, then turn over to cook the other side for 5-10 minutes. Check the internal temperature once it reaches 165 degrees the chicken is finished cooking. Place cooked chicken skewers on a clean tray and cover with foil to keep warm.
7.8.1.2
94
http://thecampgroundgourmet.com/grilled-chicken-pesto-skewers/