Here are a few things I've learned while making foil packet meals. Prep some ingredients ahead of time at home and bring it to the campground with you. These par cooked items will help speed up your cooking time. For meals that have rice, whether its brown or white rice, long or short grain, cook it ahead of time. You will reduce the water by ½ cup and cut the cooking time by 15 minutes. Once the rice is cooked, spread it out on a baking sheet to cool. Place the cooled rice in containers and freeze until ready to use. When adding to a foil packet add a liquid so the rice can continue to cook in the packet.
Roasting potatoes until they are almost fork tender at home, then bringing them with you to finish in a foil packet can save you at least 45 minutes of cooking time! Add a bit of liquid like tomato sauce, wine or stock to help them cook.
One amazing fact about foil packet meals is that they can be made ahead of time and some packets can be frozen which helps keep your cooler or RV fridge cool.
Prep Work Can Cut Your Cooking Time
Before you pack the cooler take a few minutes and chop up all of your ingredients. This will save you so much time with your food prep. Wash, dry and chop vegetables like; broccoli, carrots, zucchini, bell peppers, green beans, and cauliflower. Store in reusable food containers or zip top bags.
Using frozen vegetables can save you so much time. Try finding the packs with spring mixed vegetables or southwestern vegetables. You can buy packages of cauliflower rice to use in place of rice in any foil packet meal. What about a breakfast foil packet using frozen hash browns, bell peppers and onions and sausage? The amount of delicious foil packet meal combinations are endless.
Lemon and Dill Foil Packets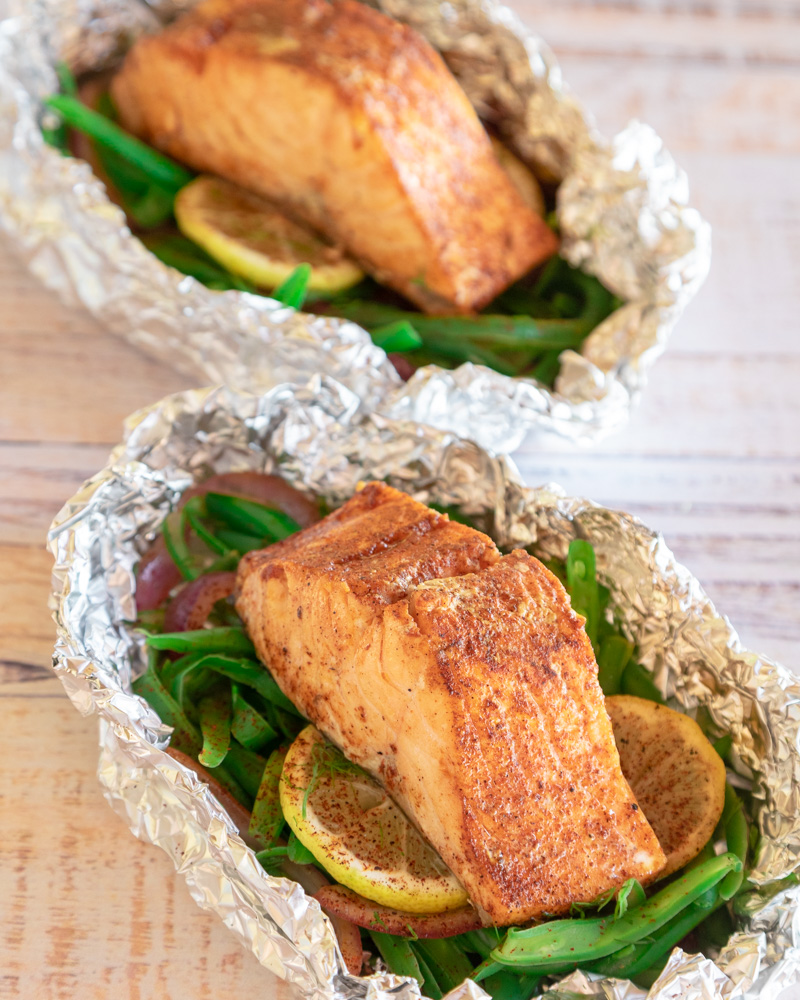 Ingredients
Serves 4
4 salmon filets
1 lemon juiced
1 lemon cut into thin round slices
1 red onion sliced thin
4 tablespoons Olive oil, divided
3 cloves garlic chopped
2 teaspoons fresh chopped dill or 1 teaspoon dried
2 cups split green beans
1/2 cup vegetable stock, water, or white wine
1 teaspoon sea salt
1 teaspoon black pepper
Old bay
Instructions
Preheat your grill to medium- high heat. Tear off 4,- 24" long pieces of heavy duty aluminum foil, set aside.
In a large bowl add the cut green beans, sliced red onion, chopped garlic, salt and pepper, olive oil and liquid. Mix well and set aside.
Place the salmon fillets on a cutting board and drizzle the remaining oil over the salmon, sprinkle Old Bay seasoning on all sides of the salmon, set aside.
To assemble the foil packets
Take one sheet of foil and fold it in half to create a 12" long piece of foil, do this to the remaining sheets. Place a small handful of the vegetables in the center of the foil, flatten out and place 2-3 slices of lemon over the vegetables, sprinkle with old bay. Place the seasoned salmon on top of the lemons. Repeat with the remaining pieces of foil and salmon.
Once all the packets are made, if there are any left over vegetables evenly distribute them to the packets and place around the salmon. Drizzle remaining sauce evenly over the four packets.
Fold the long sides of the foil over the salmon then fold in the ends to create a sealed packet.
7.8.1.2
168
http://thecampgroundgourmet.com/foil-packet-helpful-hints/