This cream biscuit recipe is delicious! The biscuits are pillow soft with a light golden color when baked. With only three ingredients, there is no reason not to make them with your next meal. I promise your family will love every bite.
When I was little, my grandmother had a wonderful housekeeper. Her name was Bea or Bea-Gussie if you were her extra special favorite kid in the family. She was from the deep south and could cook better than anyone I knew. Her fried chicken was the star of our summer picnics, family gatherings and if we were lucky, Easter lunch had platters of that golden brown crispy skin deep fried chicken.
My second favorite dish she made was her cream biscuits. All of us kids from the time we ate solid food were eating those pillow soft biscuits. She would cut out these tiny half dollar size ones for us kids while the grown-ups ate the larger-sized biscuits. She baked the scrap pieces or left over pieces alongside the cut biscuits, they were my favorite. To me those left over pieces soaked up more butter and jam. I still prefer them over the perfectly round cut out biscuits.
A Lesson in
Baking
When I was about eight, Bea brought me into the kitchen and taught me how to make her sweet cream biscuits. All I can remember is that I threw flour everywhere and poured the cream on my shoes. We giggled at my mistake and she took the time to show me how to sift flour gently and how to pour cream slowly into a measuring cup. Then she showed me how to mix the ingredients with the tips of my fingers so my body heat would not warm the biscuit mix too quickly.
Once they were in the oven, it was time to whip up the butter and add a bit of honey. All I could do was sit on my little red stool in front of the oven and watch the tops turn a light sandy blond , a caramel color. She would take the tray out of the oven and grab a hot biscuit with her hand, then pull it apart. Billows of steam would escape and she would pass that hot top of the cream biscuit to me for a taste. The game was to see how much steam I could blow out of my mouth without spitting the biscuit out, if you have never done this, go let your inner child have a giggle and try it.
Biscuit Memories
My final memory of Bea-Gussie happened over 26 years ago, just before she passed. Bea came over to my home one day to see and play with my son, who was about nine months old. She also brought in a shopping bag with three ingredients. She was making him cream biscuits. I sat there in the kitchen listening to her tell my son stories about when I was a kid. From the times I got in trouble to that day my pony bit me and then when I rode my bike on my grandmothers low wall and fell off.
When the timer sounded, she stood up, opened the oven and pulled out the best-looking tray of cream biscuits I think she had ever made. I held my hand out as she broke apart that hot and steamy biscuit. We both popped them in our mouth and blew out a puff of steam. Next she handed my son a tiny piece and the smile that broke out over his face was magical.
I dedicate this recipe to you, Bea-Gussie. My first cooking instructor. The woman who shared secrets about why you use a paper bag to hold the flour and spices for the best fried chicken. A dedicated friend to my grandmother and all of us. I miss you dearly, thank you for all your lessons.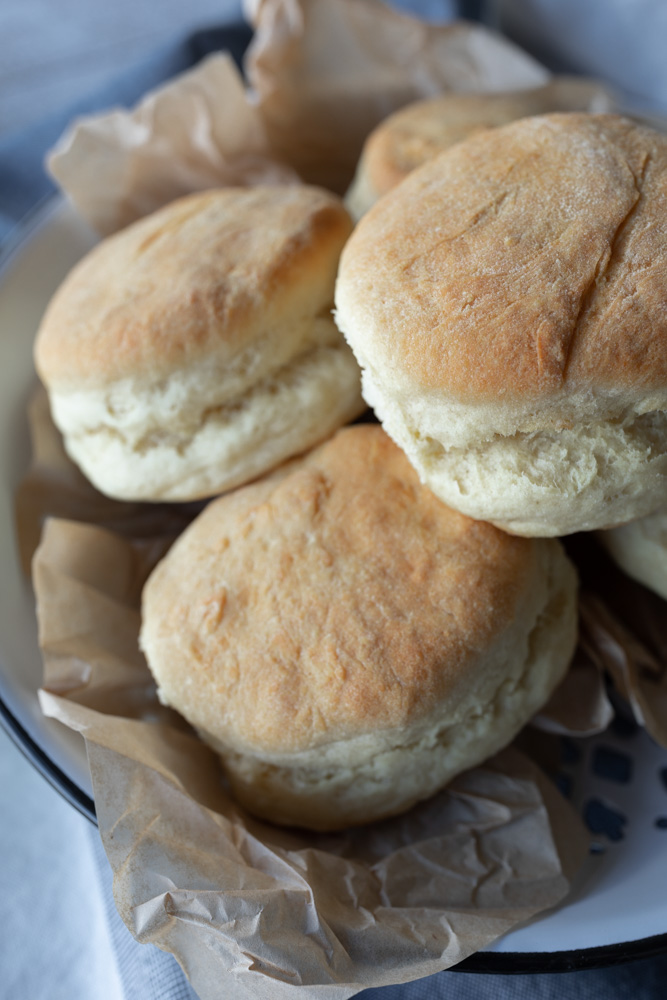 Ingredients
3 cups self-rising flour, sifted
2 Tablespoons granulated sugar
2 cups heavy whipping cream
Instructions
In a large bowl sift the flour and sugar together, cover with plastic wrap and place in the refrigerator 1 hour.
Preheat oven to 500 degrees F.
Line a baking tray with parchment paper, spray with nonstick cooking spray, or use a pastry brush to spread a bit of melted butter on the parchment, set aside.
Take the cold flour out of the refrigerator along with the whipping cream. Add the cream to the cold flour and sugar, stir together with a wooden spoon until a dough ball forms.
Turn dough out onto a lightly floured surface, or a floured rolling cloth. Dust the top of the dough with additional flour. Lightly press the dough ball down to flatten it a bit. Gently but quickly knead the dough 7-10 times until it comes together.
Lightly flour your rolling pin and the top of the dough, roll the dough to a ½ to ¾ inch thickness.
Use a 2 ½ -3 inch biscuit cutter dipped in flour to cut the biscuits out, do not twist the biscuit cutter that will seal the sides and they will not rise evenly.
Place the biscuits ½ inch apart from each other on the baking tray, bake for 10-12 minutes or until the tops are golden brown.
7.8.1.2
111
http://thecampgroundgourmet.com/cream-biscuits/