Crisp and Crunchy Cornmeal Waffles
With an incredible crisp crunch and sweet corn flavor, cornmeal waffles deliver exactly what every camper is craving for breakfast.
The Secret Ingredients
The light and crisp texture comes from three ingredients: cornmeal, buttermilk and egg whites. Whisk the egg whites to soft peaks, this adds air to the batter creating amazing tiny air pockets. Buttermilk has tiny bits of butter in it, so when it is heated those bits melt and caramelize. But the cornmeal truly is where the crunch happens. For a fantastic texture try to use stone ground cornmeal (we love the amazing meal from
War Eagle Mill
 – if you can get it… you should!), the irregular shape guarantees the crispiest waffles you will ever make.
Flavorful Toppings
Blackberry syrup
is one of the best choices to top these flavorful waffles, fresh homemade blackberry syrup is simple and can be frozen for future use. A few other suggestions for toppings would be, fresh sliced oranges, caramel syrup, vanilla bean infused maple syrup, fresh whipped cream.
However for a delicious adult topping bourbon infused whip cream is my choice.
Save Yourself Some Time
Make these beauties before your trip and freeze them for up to a month, all you need to do is reheat them in an oven, toaster oven or a cast iron pan.
::Please do not use a microwave, it will cause the waffle to soften and lose all of its crispness::
Cornmeal Waffles
Light and airy with the perfect crisp, these waffles can be made ahead of time and placed in the freezer for up to a month, all you need to do is reheat them in an oven, toaster oven or a cast iron pan.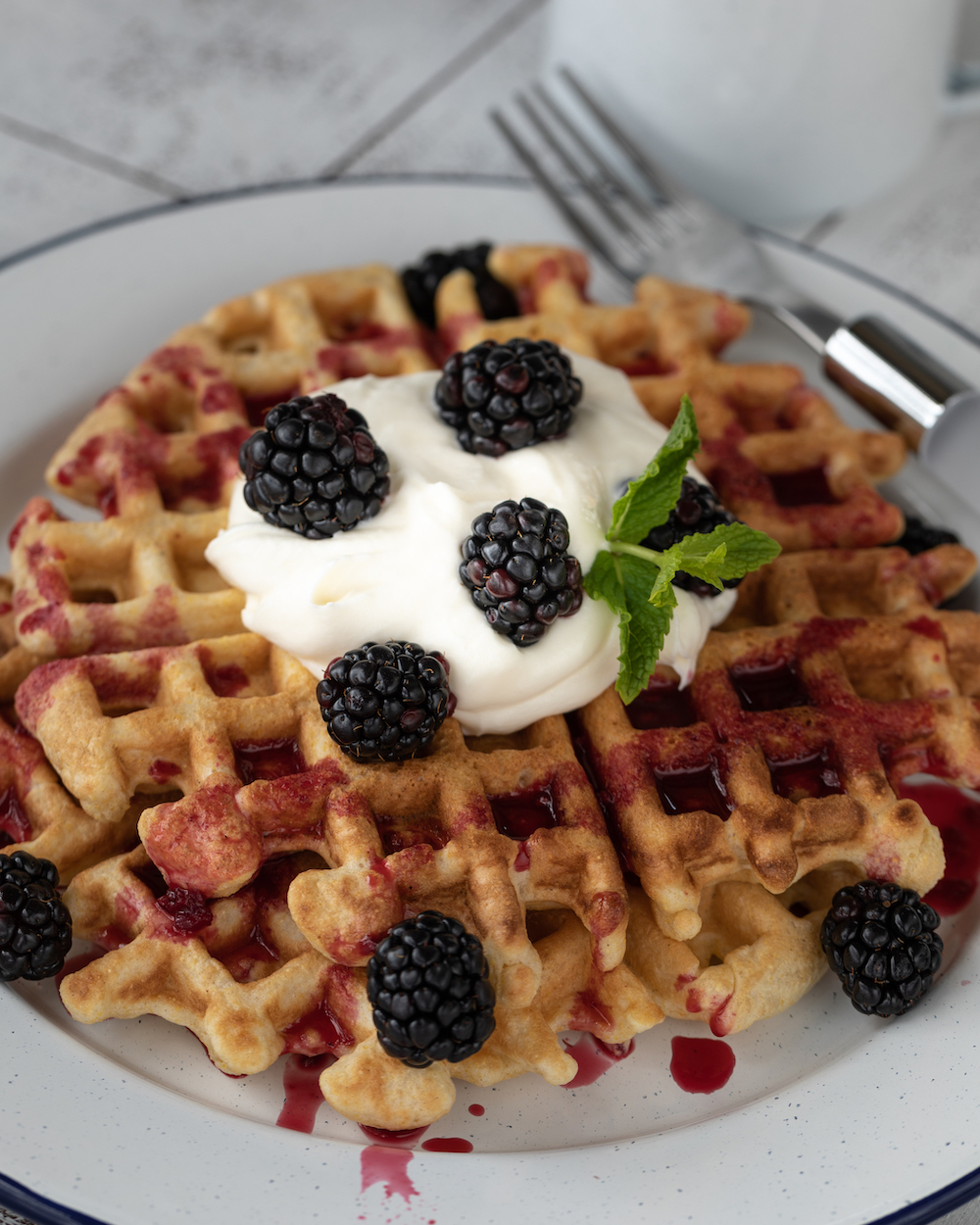 Ingredients
2 ½ cups unbleached all purpose flour
1 ½ cups corn meal (yellow or white)
4 teaspoons aluminum free baking powder
1 teaspoon baking soda
½ teaspoon kosher salt
½ teaspoon ground cinnamon
¼ teaspoon ground ginger
4 cups buttermilk
3 room temperature large eggs plus one egg white
½ cup granulated sugar
2 ½ teaspoons vanilla extract or vanilla paste
1 stick unsalted butter, melted and cooled
Instructions
Pre heat your waffle iron and spray-cooking surface with non-stick spray while it is warming up.
In a small bowl whisk one egg white until it is foamy and has soft peaks, set aside.
In a medium bowl add all the wet ingredients but do not add the whisked egg white yet.
In a large bowl add all the dry ingredients and mix well to distribute all the spices.
Pour wet ingredients into the dry ingredients; mix with a whisk until just combined. Now add in the beaten egg white and slowly mix into the batter, do not over mix, there will be whipped egg white streaks still visible and some lumps in the batter.
Spoon anywhere from ¼ cup to ½ cup of the batter into the hot waffle iron, smooth the batter so it reaches all the edges and cook until golden in color and crisp.
Stack the cooked waffles on a plate and drizzle the warm Blackberry Syrup over it.
7.8.1.2
36
http://thecampgroundgourmet.com/cornmeal-waffles/