Aromatic, healthy, and delicious. This side dish is perfect to for your next Asian or Indian meal. Flavorful ingredients such as ginger, lime, chili flake, and creamy coconut milk will have you enjoying every silky bite.
This recipe is quick and easy to make, long grain jasmine white rice is best used for this recipe but basmati rice will also work. The name jasmine rice comes from its bright white color, not because it has a floral scent. As a matter of fact the fresher jasmine rice has a sweet almost nutty flavor.
Comfort In A Bowl
I first tasted this dish when my husband and I traveled to India in 2012. I wasn't feeling all that great one late afternoon, too much traveling I guess. Our steward brought our afternoon tea up to our room and just looked at me.  "Madam, you do not look like you are feeling your best, can I bring you something to help?" I said " I would love a bowl of rice if it isn't any trouble." He answered "Madam, I will bring you a special bowl of rice, it will take a little bit to prepare, but do not worry, it will help."
After about 30 minutes there was a light knock on our door, my husband answered it and there was our steward holding a beautiful tray. Fresh orchids, a crisp linen napkin, perfectly polished silverware and this bowl of Snow White rice that was fragrant and speckled with red chili flakes, chopped cilantro and a few lime wedges were nestled on the side.
"Madam, this is our chefs mothers recipe, I know it will help, he has also written out the recipe for you to take home and enjoy so you will remember India." I thanked him and slowly drew my nose over the rising steam from that bowl and I was in heaven. Fresh ginger, sweet lemon grass, clove, garlic, and a delicate sweet perfume. I took my first bite and knew I was tasting something simple yet so perfectly flavored. That sweet coconut milk made the rice creamy, the aromatics absorbed into each grain of rice and the warmth of the chili flakes coated my throat and stomach.
About an hour after I finished the rice I was feeling better. Like I had had nap or a good swim in a pool. I went downstairs to find our steward to thank him and the chef too. We ended up sitting in the grand dining room at The Taj Mahal Hotel talking about food, the different regions of India and what made each curry from there unique. I will never forget the kindness offered to me that day nor the conversations that followed late into the night.
Basic Is Best
Using fresh ginger with its peppery, sweet, woodsy, and spicy flavors add so much to this dish. Whole clove adds a sweet perfume, garlic adds the comfort and lemongrass adds a citrus perfume. Now, the coconut milk brings the dish together. The sweet cream adds to the floral and nutty flavor of Jasmine rice and elevates it.
Sautéing the aromatics first helps their natural oils release into the grape seed oil. Cooking the rice first in the hot scented oil helps it absorb flavors. When you add the coconut milk and water do not to boil the rice too fast, this is a slow cook. You want the rise to slowly absorb everything so the grains plump up and soften.
What To Serve
Make this side dish to accompany chicken tiki masala, Garam masala lentils, or vegetable curry. Your family and friends will love it, your stomach will growl with delight. If you have any rice left over place it in a container and store it in the refrigerator. The next day add a beaten egg to the rice, scoop out a few teaspoons and shape into patties. Then fry them in a skillet with a bit of grape seed oil. A beautiful crisp and crunchy outer layer forms, its like potato pancakes but sweet and slightly spiced rice cakes.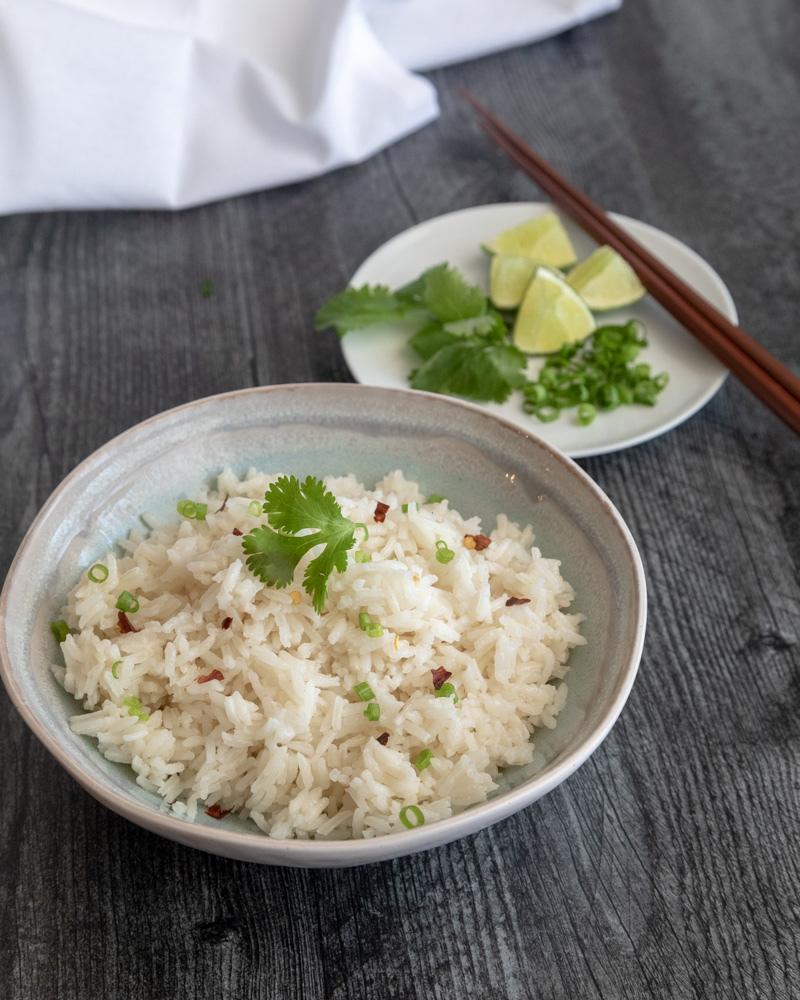 Ingredients
Serves 4
2 cups rice
2 cups water
1 cup coconut milk
1 inch piece fresh ginger, cut into strips
1 inch piece of lemongrass split lengthwise
3 green onions, greens
4 cloves garlic
4 cloves
2 tablespoons neutral oil
1 teaspoon Sea salt
1 lime or lemon juiced and zested
Pinch of red chili flake
Instructions
Remove the paper from the garlic and cut the cloves in half, set aside.
Remove the skin from the ginger and cut the peeled ginger into thin strips.
Chop the bright green ends of the onions, reserve the white stalks and set aside.
Rinse the rice under running cold water until the water runs clear.
In a pot add the oil, garlic, green onion, lemongrass, ginger, clove, and red chili flakes. Place on the stove over medium heat. Stir the ingredients constantly for 3 minutes, do not burn the garlic.
Carefully remove the garlic, green onions, clove, lemongrass and ginger from the pot. Add in the rice and stir in the hot oil for 2 minutes.
Add in the water, coconut milk and salt. Bring to a boil then reduce heat to low and cook for 15-20 minutes or until the liquid is absorbed.
Place the lid on the pot and turn off the heat, allow to steam for 10 minutes.
Fluff cooked rice with a fork. Pour the lime or lemon juice over the rice and add the zest, stir gently.
Serve with extra lemon or lime wedges and chopped green onions.
7.8.1.2
172
http://thecampgroundgourmet.com/coconut-milk-rice/