Easy Homemade Churros
What better way to surprise your family with this delicious, easy homemade churro recipe than at the campground.
On our family trips to Disneyland, you can find my husband standing in line for a hot, crispy, cinnamon and sugar churro. I can't believe how long he waits for a churro, I believe 20 minutes has been the longest wait.
I wanted to develop a churro recipe that was simple and easy for us to take on our camping trips and took little time to cook.
The answer was to freeze the dough!
The base of a churro is roux pastry dough. Simply cooked flour and water then eggs are quickly stirred in to make a very sticky French pastry dough.
The only tricky part is getting that dough into a pastry bag fitted with a large star piping tip. The rest is simple, just squeeze out ropes of dough onto a piece of wax or parchment paper. Once you accomplish that, you just need to place that tray in a freezer and freeze until the dough is frozen solid. I place the churros in zip-top bags and pack them into our trailer's freezer.
Once I'm at the campground, carefully heat cooking oil and gently place 4-6 ropes in the hot oil and fry them until they are crispy and golden.
The sugar is in another zip-top bag and I drop the hot churro into the bag and let one of my children shake the bag to coat the churro.
Talk about happy campers! These treats are perfect with my homemade hot chocolate recipe, you can sip the delicious thick chocolate and you can even dunk the cinnamon- sugar covered churro into it.
Additional Topping Options
Mix granulated sugar and pumpkin pie spice to create a warm fall taste. Add in ground cardamom, ground ginger, cinnamon and a touch of clove for a chai spice churro. Check out Savory Spice Shop for my favs!
For a chocolate lovers churro add in sweetened chocolate powder to the granulated sugar.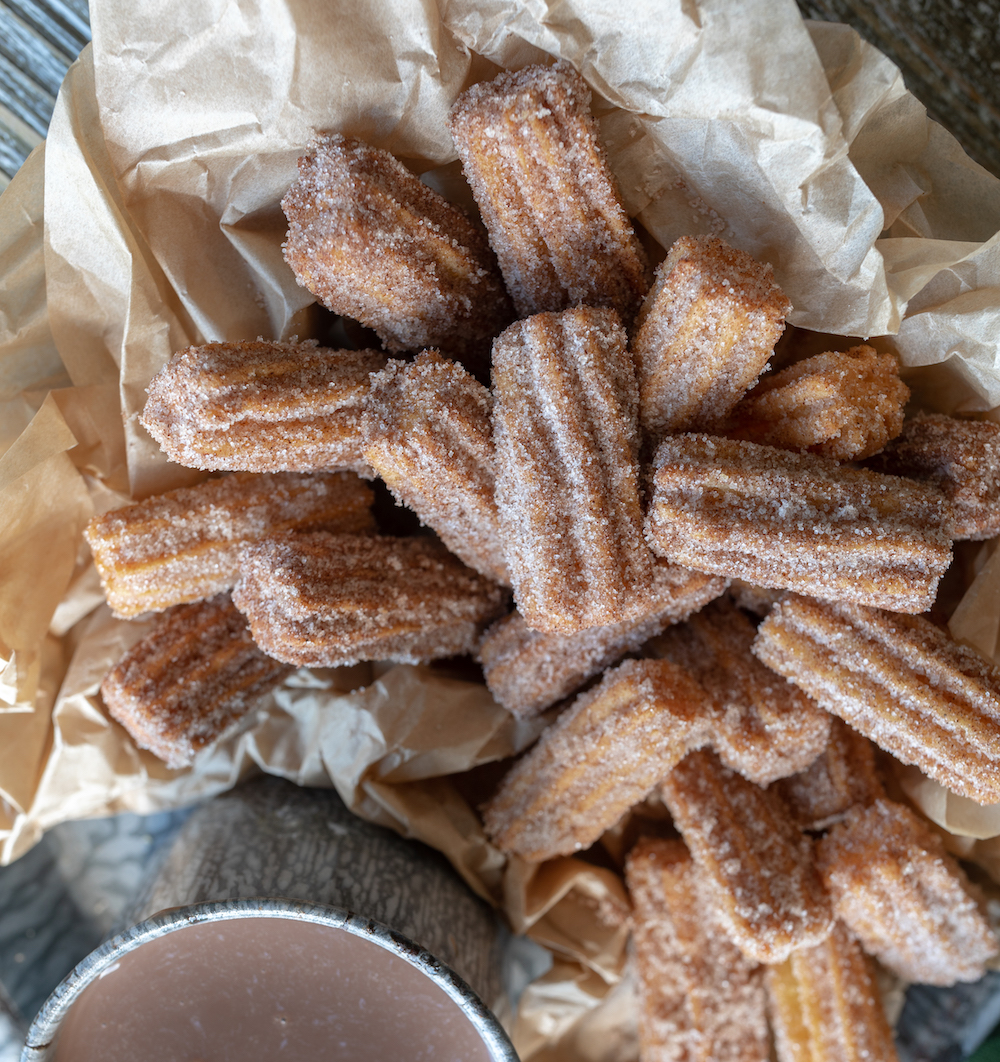 Ingredients
2cup water
3 tablespoons granulated sugar
2 teaspoons vanilla bean paste or vanilla extract
½ sea teaspoon salt
6 tablespoons unsalted butter cut into cubes
1 quart vegetable or peanut oil, for frying
2 cup unbleached all-purpose flour
1 large egg
3 teaspoons ground cinnamon
1 cup granulated sugar
Instructions
In a medium size saucepan over medium high whisk together water, 3 tablespoons sugar, vanilla, salt and butter, bring to a boil. Turn heat off and with a wooden spoon stir in the flour all at once, continue stirring until a thick dough ball forms, return to the heat and cook 2 minutes longer, constantly stirring.
Turn off heat and let dough cool, about 10-15 minutes, stirring every few minutes. Add the egg and stir very quickly until it is absorbed. The mixture will still be hot so be careful. Transfer dough to a piping bag fitted with a star tip or a large zip top bag with one of the corners cut off so dough can be piped through it. Set aside.
Line a sheet pan with parchment paper and sprayed with non-stick spray, have a pair of scissors and a cup of water to dip them in for the next step. If you want to freeze the dough to make the churros at a later date follow these instructions. If you want to make them right away follow the directions after the oil temperature instructions.
Squeeze out a 4" length of dough. Dip scissors in the water and cut the dough from the piping bag. Repeat the process until the tray is full. Place in the freezer overnight, in the morning transfer to a zip top bag and keep in freezer up to a month. To cook, place churros on a sheet pan and allow to thaw for 20 minutes.
Heat 3 to 4 inches of vegetable oil in a large, heavy-bottomed pot set over medium-high heat until it reaches 375ºF. (3 inches of space above the oil line to prevent it from bubbling over.) Combine 1-cup sugar with the cinnamon in a pie pan or shallow dish. Set aside.
Fry until golden brown about 3-6 minutes, turning every so often, remove from oil and place on a paper towel lined tray after 2 minutes dredge in cinnamon sugar and serve with Hot Chocolate .
7.8.1.2
28
http://thecampgroundgourmet.com/churros/