The Ultimate Over The Fire Cooking Tool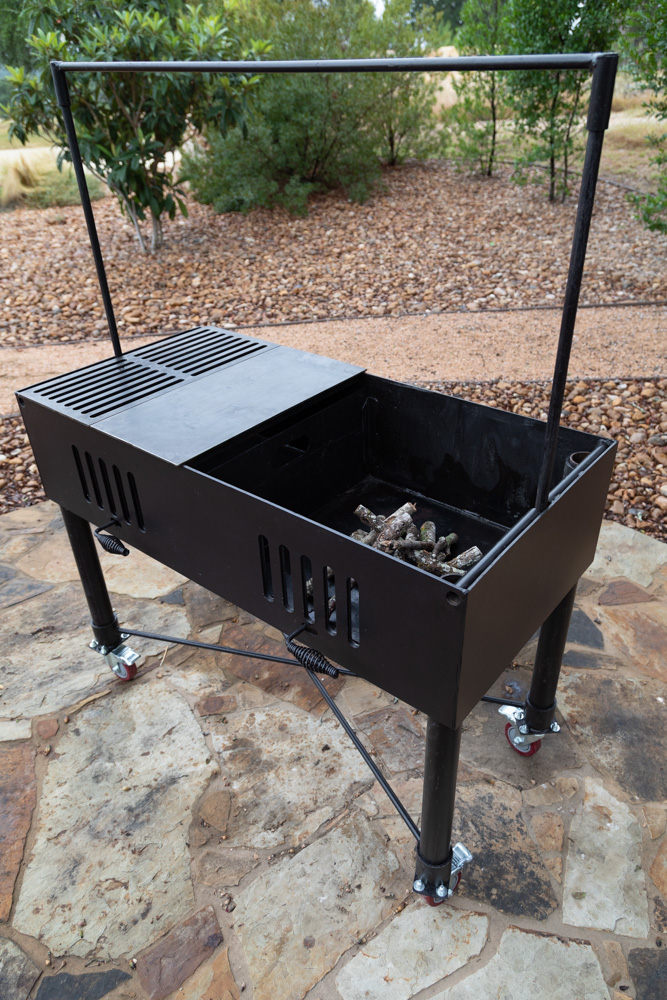 The most important technique I can teach is how versatile your over the fire cooking equipment should be. Working with equipment that can create a hot direct heat zone and a cooler slow grill side is essential. 
The act of building a fire, seasoning meat and creating that beautiful pink smoke ring has been something that brings me joy. Over the years I have purchased my fair share of BBQ equipment, some good, some bad and some horribly ugly. Flimsy construction left me replacing cooking tools, poor metal quality meant warping or in one incident, melting.
During the past year my passion and profession of outdoor, over the fire cooking and teaching has expanded. Teaching campers how to set up the perfect fires for camp Dutch oven cooking. Showing them the art of the balanced two zone cook area, for slowly smoked then seared food. Screaming hot griddle cooking where a crispy and delicious crust forms on a steak. That's over 5 pieces of equipment I load, then unload to present with. I've been looking for an all in one piece of equipment, something to showcase my over the fire cooking. In as minimal space required.
I was reading a blog post on Chuck Wagon History and Cooking and Texas cowboy history.  Men like Charles Goodnight the father of the Texas panhandle revolutionized the cattle drive industry. Charles knew his cowboys needed to become more efficient, and he had a plan. Three meals a day and a safe place to store their gear was key, the Cowboy Chuck Wagon was born.
The Chuck Wagon History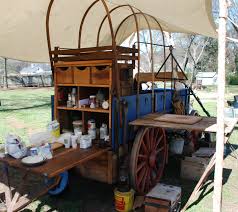 The 1856 Studebaker Army Wagons were the exact piece of equipment Goodnight knew would work with a few redesigns. They created a large pantry box system, holding essentials like flour, coffee, sourdough starter, cast iron, and medical tools.  Spices, bowls, tobacco, sugar, water barrels, plates and utensils were all stored in the chuck box. Adding a canvas sling to the underbelly of the wagon was for storing firewood so the camp cook "Cookie" could build the mealtime fires. His job was to drive the chuck wagon to the next camp then set it up and get cooking. A set of metal spikes, hooks and tools were added to the kit. They were used to keep hot cast-iron pots elevated over the hot fire to prevent food from burning.
Fire pits were dug to keep the coals & fire out of the wind; however, something safer had to be designed. A fire box made of metal that had four side and kept the fire from accidentally spreading. It needed to be transportable, multi functioning and easy to set up. The creation of the chuck wagon fire box was another history changing moment.
For me, the needle in the haystack was 2 hours to the north from my home in Fort Worth, Texas. Circle J Fire Pits, a three-generation fabrication company that set its roots in the tank head industry. According to Justin Jones, the creator and designer for the fire pit division the tank head was the key. "It's the perfect shape and size for an outdoor open fire grill. Just add some legs, a grill top, a few key safety features, and you have your family outdoor fire pit and grill."
A Lucky Find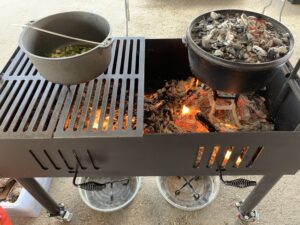 I was after the Texas Classic Chuck Wagon Fire Box, a raised steel rectangular box supported by four sturdy legs with heavy duty locking casters. Inside the fire box are two heat source areas created by a removable steel plate divider that create independent cooking areas; one large enough for Dutch oven cooking, the other perfect for using the grill or griddle plates. If you were not going utilize the Dutch oven cooking method, there are additional set of the grill and griddle plates that cover the area.
When all four grilling plates are used, they cover the top of the firebox perfectly. Two adjustable air vents on the front of the firebox help control the heat.  There is a design feature that I love and that is the over the fire support bars. A U-shaped set of steel rods that work to create the perfect area for hanging cooking tools or a coffee pot from. But the overall reason I knew this was the piece of equipment for me was that it was transportable, and I could eliminate 5 pieces of equipment for my cooking classes and use the multifunction Texas Classic Chuck Wagon Fire Box for everything.
What honestly drove me to contacting Circle J Fire Pits is that every piece of their equipment is a handmade, American product. Beautiful designs for your backyard patio, multi-function pieces of equipment for restaurant owners, competition BBQ enthusiasts and all the equipment has a lifetime guarantee. They are a good honest company with even better beliefs, morals and standards. Then a phone call changed everything. Justin offered a partnership between Circle J Fire Pits and my company, The Campground Gourmet. Simply put they would supply me with equipment, and I would work my magic with recipes, images, videos and blog posts.
It's All About the Location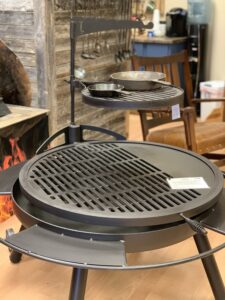 Driving to Fort Worth I meet with Justin to see the fabrication shop, and walk the showroom.  From fire pits, burn pits, smokers, campfire fire rings, tri-pod cooking set ups, accessories and tools. I could not believe this gem has been here all this time, open to the public and I didn't know about it. Not only could the backyard cook find the perfect piece of equipment, but campground owners, caterers and restaurant owners will love everything they offer. Along the back wall of the showroom two beautiful antique enamel coffee pots sat on the cooking tool I came to load up in my truck the Texas Classic Chuck Wagon Firebox.
Justin, his family, and everyone who works at Circle J Fire Pits has welcomed me into their world. I have a lot to learn and share with you so let's explore the art of tending a fire, cooking delicious food and having fun seeing all the designs Circle J Fire Pits have for you.
Enjoy this flavorful recipe at your next camp out or create it at home on a cool fall night. Please like and follow Circle J Fire Pits on Facebook and Instagram.
This blog post is sponsored by Circle j Fire Pits, all opinions expressed are my own.
White Bean and Andouille Sausage Soup

Ingredients

1 medium size yellow onion, chopped
3 carrots, peeled and chopped
2 ribs of celery, chopped
2 cloves garlic, minced
6 swiss chard leaves, stems removed and chopped, leaves chopped
1- 12oz package Andouille sausage cut into ½ inch rounds
2- cans white beans, drained of liquid
3 thyme sprigs
2 teaspoons Cajun seasoning
2 tablespoons grapeseed oil
4 cups low sodium chicken stock

Instructions

Place your trivet or fire stand in the middle of a good bed of hot coals.
Carefully place the camp Dutch oven on the stand and allow to heat for 2 minutes.
Add in grape seed oil, onions and thyme. Sauté for 5 minutes until onions soften and become translucent.
Add in carrots, celery, Cajun seasoning and stir well. Cook five minutes.
Add in garlic, stir well and cook for a minute.
Add in sausage and white beans, stir and carefully pour the chicken stock in. Mix well and place the lid on the Dutch oven to cover the soup.
After 20 minutes, carefully remove the hot lid with a lid lifter and give the soup a stir. Cover and cook for an additional 10 minutes.
Carefully remove the hot Dutch oven from the fire and place on a heat safe surface, serve and enjoy.

7.8.1.2

82

http://thecampgroundgourmet.com/chuck-wagon-fire-box/