Every once in a while a camping product has me doing a double take which leads me down the path to a ton of research. Then onto and an out of the box lets see how this does performance taste test.
Take the CasusGrill, a 100% all-natural material; one time use grill that is also biodegradable! Yes, reread that last sentence correctly 100% natural and biodegradable.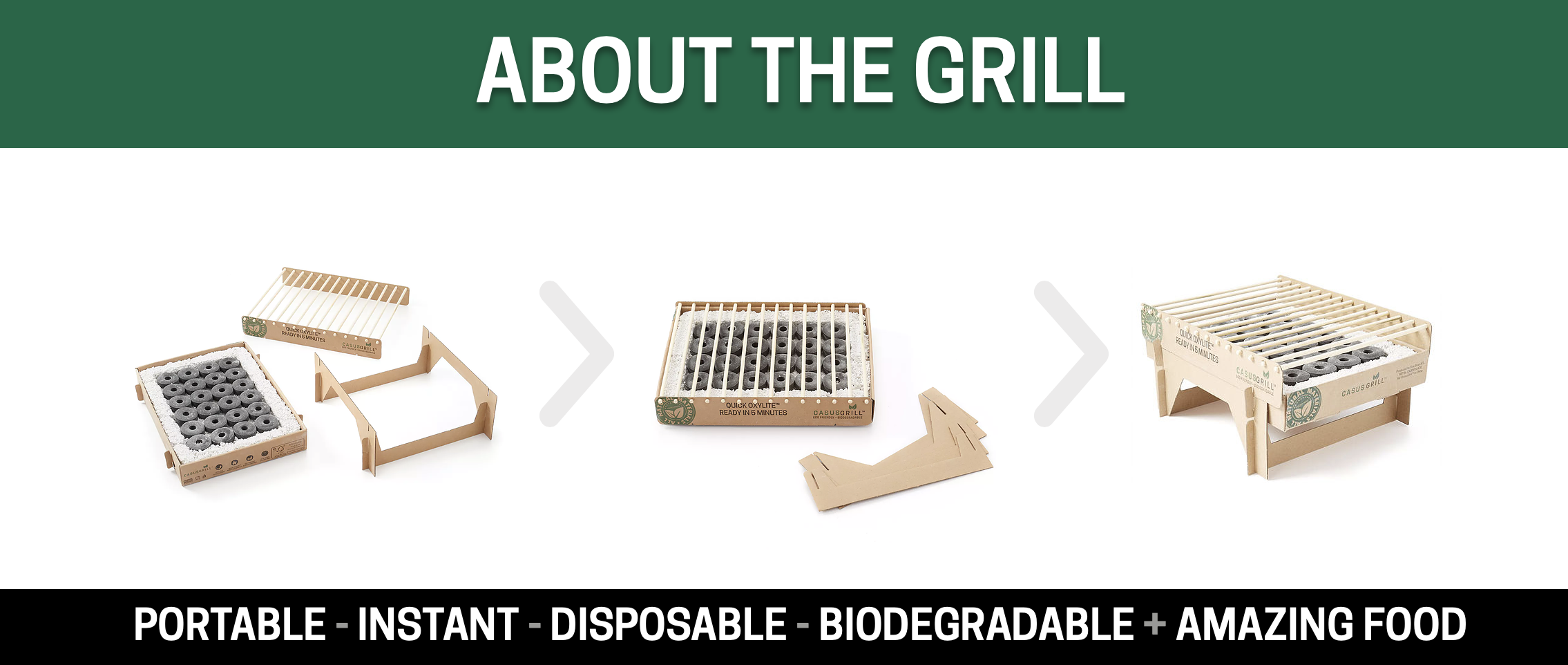 My product review and recipe are below for you to enjoy…
I saw this product a year ago when I was walking along the path at Lady Bird Johnson Lake in Austin, Texas.  There was a couple sitting on the grass enjoying their day and in-between them on a picnic blanket they were grilling vegetables and chicken breasts.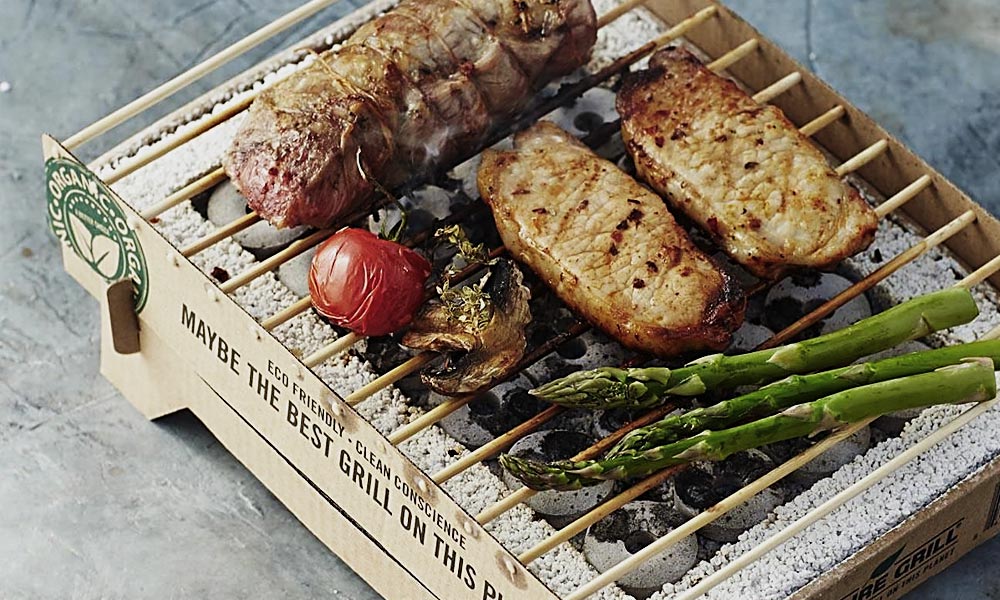 The structure was amazing it was literally a shallow cardboard box on a cardboard base with charcoal briquettes and a grill top. Immediately the questions started to stack up, how was the entire thing not catching on fire, how was that grill producing a beautiful smoky perfume, honestly how was this not catching on fire!
Fast forward to a few weeks ago while I was searching the internet for a compact camping grill to take to the Pacific North West while I went camping and hiking in the Olympic National Park and Forest. I kept seeing 100% Natural, Biodegradable, one time use grill in my search and so I did what most people do I clicked on the link because as an avid camper and chef, I didn't believe such a product was available.
I was wrong, very wrong!
That grill I saw over a year ago was on my computer screen, The CasusGrill. A 100% Natural and biodegradable grill. A single use grill that is ready to start grilling in five minutes after lighting the Oxylite bamboo charcoal pucks, with its simple and basic design this grill can retain a temperature of 600 degrees for sixty minutes.
The cardboard body is lined with lava stone that both insulates the heat and reduces the risk of the cardboard body catching fire. Its briquettes create a high, even temperature that helps grill your food is properly which take 5 minutes to heat. The bamboo grill grates stand up to the heat and leave fantastic grill marks on your food.
Who did I think would benefit from having this product in their outdoor camping gear; tent campers, hikers, the occasional grillers, emergency response workers, tiny house owners, tailgaters and the list goes on.
With a barely there footprint 12.2 X 9.2 X 2 inches and weighs 2.2 pounds it is easy to store in a backpack, in a chuck box, storage tote or travel trailer cabinet.
No aluminum, no lighter fluid needed, no flames and minimal smoke. After testing it I can say a family of four can easily have a grilled meal, it created a high, even temperature that guarantee's your food is properly grilled, with delicious char marks and light smoked perfume finish.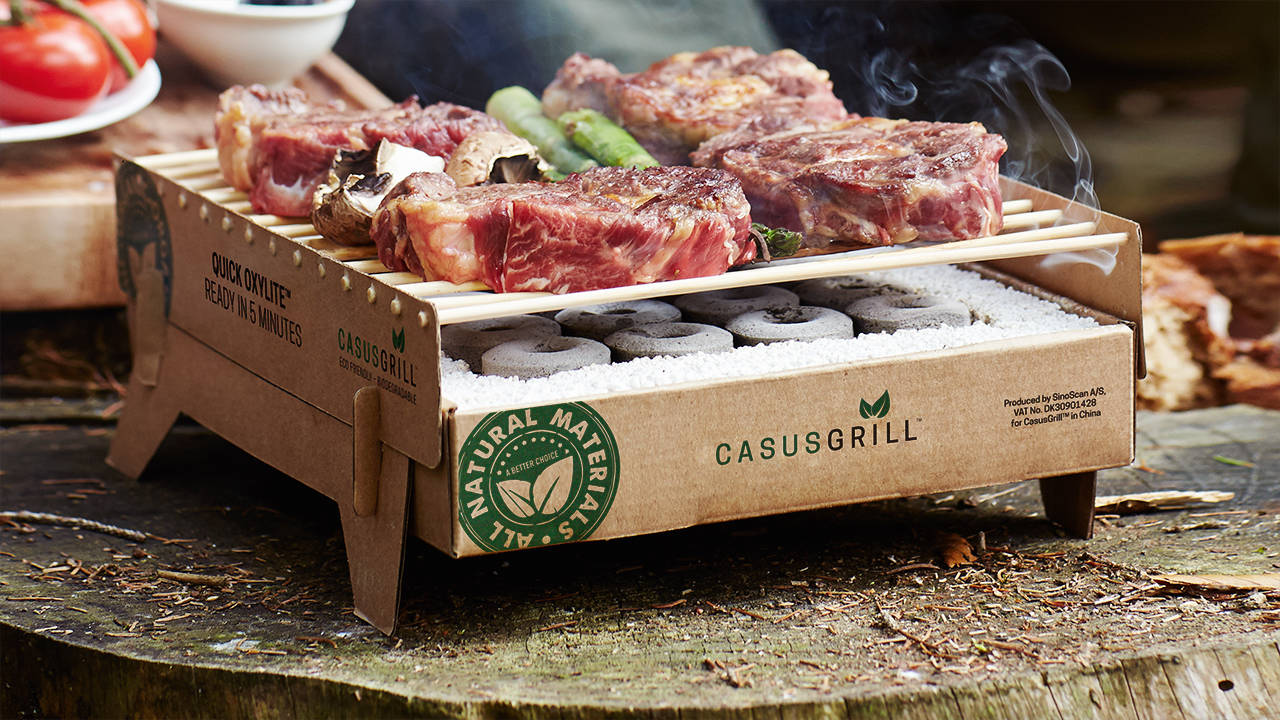 From hamburgers to grilled sausages, kabobs, steaks, vegetables or stuffed and grilled chicken breasts this grill can cook a fantastic meal. After the 60-minute at 600 degrees cook time you are ready to utilize the lower temperatures and cook s'mors or grill some fruit and pound cake for dessert.
How do you dispose this grill, I found that two methods work perfectly, first let the charcoal briquettes burn down then pour water over them to ensure that the heat source is put out.
Disassemble it, place it back in its original pouch and just walk over to a trashcan and throw it away.
Remember, its eco friendly, made from 100% natural materials and everything but the lava rock is biodegradable!
The second method I tried was to pour water over the briquettes while they were still hot and then dissembled and packed it up and carried it out while I was on my hike and threw it away in the convenient trash can.
The cost of the CasusGrill is very fair at $14.95 I feel this is a good buy and something you will use, they have an entire list of purchasing options and some include free shipping.
I know I will be buying it to keep in our trailers for that time I forget to refill our propane tanks or I forget the bag of charcoal. This is a simple product that delivers a fantastic flavor in a short amount of time and after properly disassembling it I can just throw it away and not worry that it will pollute the landfills it will breakdown, give back to the earth.
In testing the CasusGrill we made Cajun Shrimp Skewers and they were perfectly cooked and super fast and easy with the grill!!