Buttery rich and chocolaty sweet, this chocolate toffee skillet cookie is easy to prepare and serve. The key to baking this delicious dessert is using a well-seasoned cast-iron skillet.
Recently, I wrote an article for Trailer Life  about my experience and knowledge of chocolate and the bean to bar process.  I also recommended a beautiful campground within miles of the Hershey Amusement Park in Hershey, Pennsylvania.
From bean to paste, then liquid to powder and finally molded into the familiar solid bar. The chocolate manufacturing process is an incredible adventure. 100% hand harvested, the cocoa pod has an interesting journey from the lush, humid, and tropical regions to our store shelves. The chocolate you enjoy today started on a small estate possibly in Ghana, Brazil or even the Ivory Coast. However, I choose to visit a beautiful cocoa and coffee estate in Oahu's North Shore. All the details are in this link along with my choice for the best chocolate product they make.
The Many Uses of Chocolate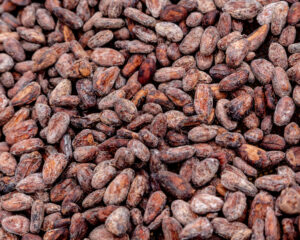 I use ground cocoa nibs, (the crushed small pieces of the cocoa bean) in rubs for my smoked tri tip. Cocoa powder is the main ingredient in my homemade hot chocolate or my flourless chocolate cake.
Dark chocolate bars are magical when melted and folded into fresh whipped cream for a delicious whipped chocolate mousse. However, chocolate chips are essential in the recipe below and in my peanut butter chocolate chip cookies.
Backyard barbecue enthusiasts and professional chefs are rapidly using cocoa nibs and cocoa powders as the focus flavor or secret ingredient to their rubs, marinades and seasoning mixes. Here is my Cocoa Spice Rub recipe, I use it on grilled beef, lamb and even in my braised pork shoulder for rich pork tacos.
Cast Iron Magic
My family has known me to burn cookies from time to time it has something to do with the timing, rotating the pan, then the resting time once removed from the oven. It's exhausting and stressful. But after being introduced to the cast iron skillet cookie, I have not burnt a cookie since.
Baking the cookie dough in a well-seasoned cast iron pan creates this crisp and crunchy outer layer and a pillow soft center. Exactly my preferred cookie texture. Being able to slice wedges of the cookie and top with a good amount of ice cream has to be the ultimate chocolate chip cookie experience. Now, I have a few suggestions on how you can change this recipe up a bit.
Substitute the toffee for dark chocolate chips
Omit the toffee bits and chocolate for a delicious sugar cookie
Add in peanut butter chips with the chocolate chips
Replace the semi-sweet chocolate chips for white chocolate chips
Eliminate the chocolate and toffee and replace with equal amounts dried cranberries and white chocolate chips, add a touch of chopped crystalized ginger
Enjoy this recipe, it's simple to make and filled with delicious sweet flavors. You can make up batches of the cookie dough, shape into rounds, and keep in your freezer. Thaw for about 30 minutes before baking and just press into the cast iron skillet and bake.
Pro tip: we love the Crisbee Stik for all our cast-iron seasoning needs
Cast Iron Skillet Chocolate Toffee Cookie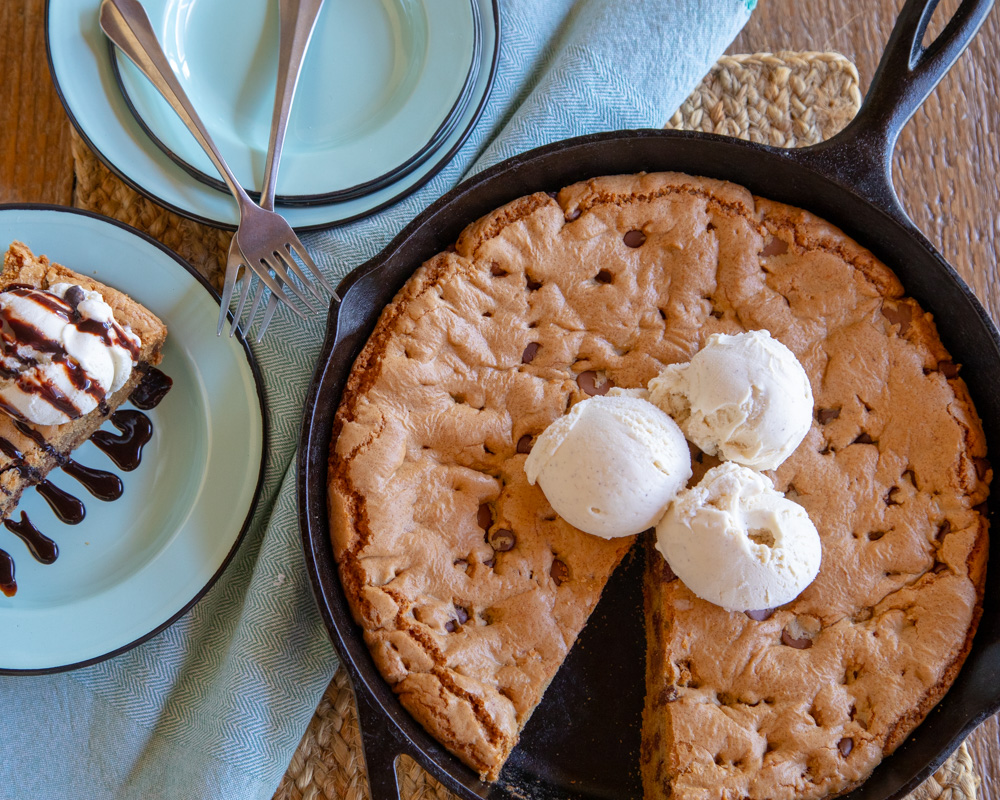 Ingredients
1 cup unsalted butter, melted
½ cup granulated sugar
½ cup light brown sugar
½ cup dark brown sugar
2 eggs
2 tsp. vanilla extract
1 tsp. baking soda
½ tsp. salt
2½ cups unbleached all-purpose flour
1 cups semi-sweet chocolate chips
1 cup Toffee pieces
Instructions
Add butter to a 12' cast iron skillet, place the skillet in the cold oven, preheat oven to 350 degrees for 10 minutes or until butter is melted and slightly bubbly.
Remove pan carefully and pour butter into a large bowl add all the sugars to the melted butter. Mix well with a whisk until creamy, add eggs and vanilla, whisk until smooth.
Add flour, baking soda, salt and flour to sugar mixture, mix with a wooden spoon until smooth.
Add in chocolate chips, and toffee pieces, stir to combine.
Place cookie dough in the buttered cast iron skillet, spread evenly, be careful the skillet is still hot.
Place skillet in oven for 25-30 minutes or until the cookie is golden brown and set.
Remove from oven and allow to cook on a rack for 10 minutes, slice and serve with your favorite ice cream and chocolate sauce.
**Note: This recipe uses a 12.5? skillet. A slightly larger or smaller skillet can be used; just keep an eye on cooking time
7.8.1.2
89
http://thecampgroundgourmet.com/cast-iron-skillet-chocolate-toffee-cookie/