Packed full of flavor and one simple recipe to make. This cast iron chicken paillard meal come together in under 30 minutes. A fantastic weeknight meal or one to enjoy out on the patio with friends and family.
Paillard means to flatten. Use this traditional French cooking technique with chicken, beef, and turkey. Some recipes call for the chicken to be dredged in flour and egg then seared in a hot skillet until golden brown. Creating a crispy outer crust very similar to chicken fried chicken or steak.
Bringing the Flavor Home
This recipe uses bright and fresh herbs along with fresh tomatoes. You can create your own incredible flavor combinations, but I gave you a few suggestions to get you started. Just keep it fresh, simple and delicious.
South of the border. Sprinkle 2 teaspoons of my Southwest Seasoning Spice over the chicken. Make a roux with butter and flour, add chicken stock, then cook until you have a thick sauce. Add in a can of Rotel, cook until bubbly and add over the cooked chicken just before serving.
Fresh and French. Season the chicken paillards with salt and pepper. Dredge in flour and egg, then cook in a hot skillet until golden brown. Remove the chicken and place on a platter. Add some butter and flour to the hot skillet, cook for 2 minutes then add in white wine and chicken stock, cook until thick. Turn the heat off and add in a bit of lemon juice, stir well. To the chicken, add some freshly washed arugula salad greens, then pour the sauce over the greens and chicken. Top with lemon zest and a bit of shaved parmesan cheese.
Great on the grill. Sprinkle my BBQ Seasoning Mix over the chicken paillards. Heat a grill over medium-high heat, place all the chicken paillard pieces on the hot grill. Cook 3-5 minutes a side, remove from the heat, place on a platter and serve with barbecue baked beans, grilled corn and bread.
Cast Iron Chicken Paillard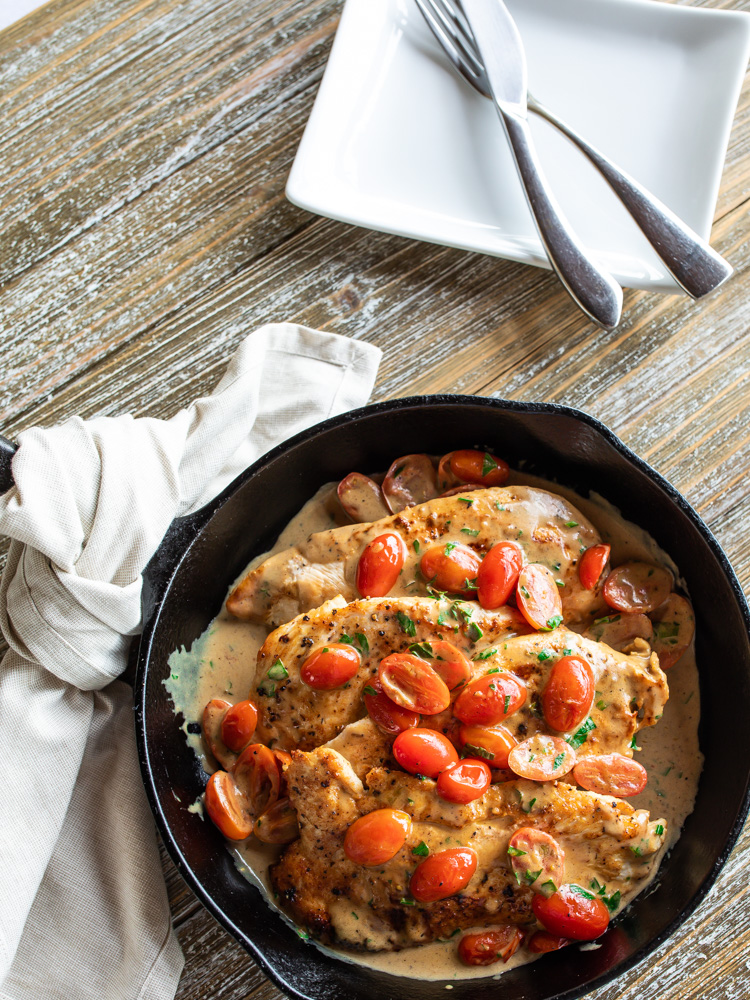 Ingredients
4 Boneless, skinless chicken breasts cut in half lengthwise
4 tablespoons olive oil, divided
Seasoning Mix
1 ½ teaspoons kosher salt
2 teaspoons ground pepper
1 teaspoon granulated garlic
½ teaspoon paprika
Sauce
3 tablespoons butter
3 tablespoons unbleached flour
½ cup chicken stock
½ cup white wine
1 cup heavy cream
2 cups cherry tomatoes, halved
1 tablespoon fresh parsley, chopped
1 teaspoon fresh thyme, chopped
1 teaspoon salt
½ teaspoon ground pepper
Instructions
Preheat oven 250 degrees
In a small bowl add salt, pepper, granulated garlic and paprika. Mix well and set aside.
In another small bowl add all the fresh herbs, salt and pepper, mix well and set aside.
Prepare your chicken breasts by slicing them in half lengthwise. Place 2 pieces of chicken between two pieces of cling wrap. Using a meat mallet, heavy rolling pin or small sauce pan, pound each piece until it's ¼ inch thick.
Place the chicken paillards on a baking pan and evenly sprinkle the seasoning mix over both sides of the chicken.
Heat a 12" cast iron skillet over medium high heat. Once hot add 2 tablespoons of olive oil to the skillet.
Add 4 chicken paillards to the hot pan, cook 3-5 minutes a side. Remove and place on a clean baking sheet pan, place in the oven to keep warm.
Add remaining 2 tablespoons of olive oil to the hot pan, add in chicken paillards and repeat the cooking process. Removed the cooked chicken from the pan and place on the baking sheet to keep warm in the oven.
Add butter and flour to the hot skillet, whisk to combine. Cook 2-3 minutes or until light golden in color.
Whisk in the chicken stock and wine. Add in the tomatoes, cook for 5 minutes.
Add in the fresh herbs and cream, mix well and remove from heat.
Take the chicken out of the oven and place on a platter, carefully pour the tomato, herb and cream over the chicken paillards and serve.
7.8.1.2
129
http://thecampgroundgourmet.com/cast-iron-chicken-paillard/