Chicken fried chicken is the ultimate comfort food. Tender, juicy and crisp chicken breasts seared in a cast iron skillet just until golden brown. To top off that crisp piece of chicken is a thick and creamy, slightly peppered white gravy. Your friends and family who eat this meal will ask for seconds, I promise!
Dinner on the Farm
Long before I moved to Austin, Texas I came to this incredible city with a group of food bloggers. We were part of the media team sharing all that Austin and its farmers has to offer to the community and anyone who visited. We attended an unforgettable farm to table dinner that was six courses.  Each delicious course was created by a different local chef. Fresh, seasonal dishes were placed in front of us but the one dish that had everyone going back for seconds was the honey sweet chicken fried chicken with roasted Hatch chile gravy.
Once the dinner finished, it was time for a Q&A with the chefs of the evening. The chef who created the chicken entrée was the hit of the evening. We asked him everything from where he sourced his honey, Hatch Green Chiles, and if he made the seasoning mix in the flour. When it was my turn to ask Chef a question I asked him "what type of flour did you use?" I got a few odd looks from other bloggers, but the chef knew I was dissecting his recipe. He said, "I use the flour my grandmother made biscuits with." I took a chance and asked an additional question, "where did your grandmother live?" He said, "Tennessee."
With that information I was 99.9% certain he used White Lilly flour. Why? He said three things that stuck out to me. First, he mentioned his grandmother. Second, he said the word biscuits. Third was letting me know his grandmother lived in Tennessee. White Lilly is one of the most famous American flour brands with Southern bakers, it's made from 100% soft winter wheat and is considered the Sunday Flour. You can read all about that here, in Taste of the South Magazine. 
Not All Flour Is the Same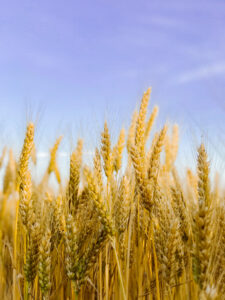 Flour Manufacturers divide wheat flour into two categories; hard and soft. Below I have given you the basic information to each type of flour, their uses and links to purchase them.
Hard flour is a higher in protein than soft flour and

generally 

milled from spring wheat. Bread bakers use hard flour because of the

strong gluten structure

that

is needed

for bread loaves. King Arthur Flour is a fantastic source for hard wheat flour.
Soft flour has a very fine texture, with a low protein count. Made from winter wheat, this flour is best for biscuits, cakes, pie crusts and many other

tender and 

delicate

baked goods. White Lilly Flour is my choice for soft wheat flour.
All purpose flour is a blend of both soft and hard wheat flour, making it perfect for

all types of

baking.
Fried Chicken and Chicken Fried Chicken
What is the difference between fried chicken and chicken fried chicken? I'm here to help explains the difference for you. First, fried chicken uses bone in and skin on chicken pieces from every part of the bird. Second, the pieces of chicken are soaked in a buttermilk or buttermilk and egg wash, then dredged in flour and deep fried.
Chicken fried chicken is a boneless, skinless piece of chicken, usually the breast or thigh. If you use the chicken breast, you will flatten the entire piece out or you can butterfly it. Dip it in a seasoned flour mixture then into an egg wash then back into the flour. Cook the chicken in a cast iron skillet with a bit of oil. Once the chicken is cooked and removed from the pan use the remaining oil in the pan along with some seasoned flour and milk for the gravy.
This dish has become a family favorite here in my home. I am so grateful to have spent that evening eating out under the big Austin, Texas farm sky so many years ago. Chicken fried chicken holds a higher place in my food loving heart than fried steak, shh don't tell anyone. I enjoyed watching a chefs face brighten when he spoke about his grandmother and what food memories she planted deep inside of him. This is a comfort meal, a Sunday supper sit down with your family and celebrate being together kind of meal.
Tools I recommend
Cast Iron Chicken Fried Chicken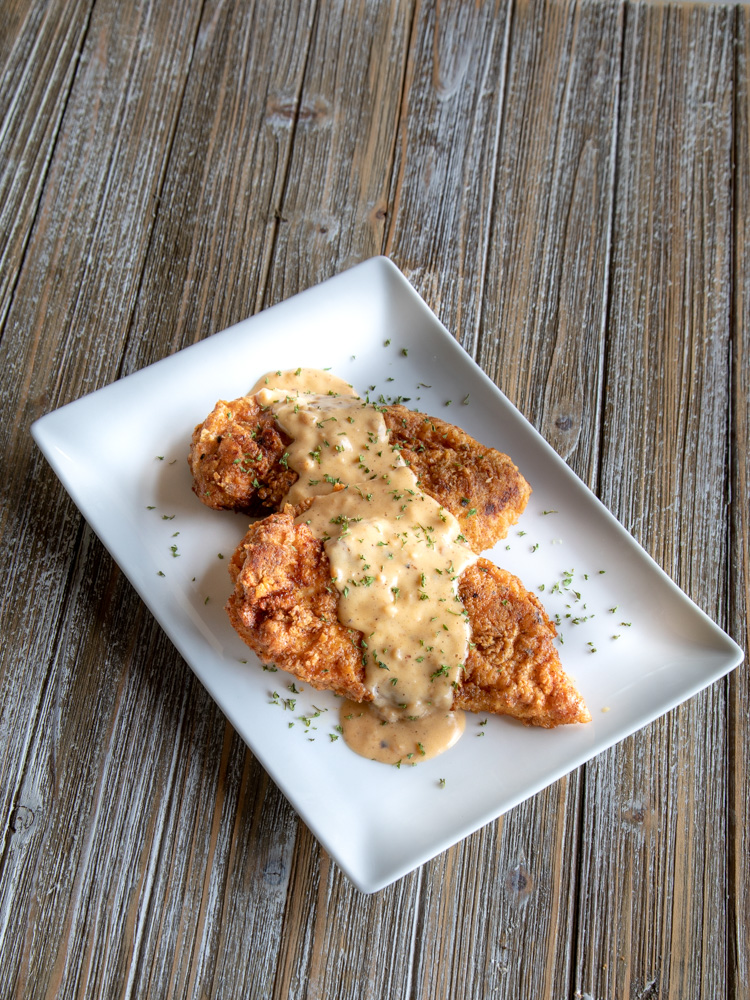 Ingredients
4 boneless skinless chicken breasts, cut in half, lengthwise
2 cups unbleached all purpose flour
4 tablespoons Southwest Seasoning
5 eggs
2-3 cups whole milk
1/2 cup oil, divided (canola, peanut, grape seed, vegetable)
1 tablespoon fresh parsley, chopped
Kosher salt
Fresh ground pepper
Instructions
Heat oven 350, put the cast iron skillet in the oven while it heats up.
Take the boneless skinless chicken breasts and split it lengthwise into two pieces.
Season with a little salt and pepper.
In a bowl mix the flour & Southwest Seasoning .
In another bowl whisk the eggs.
Take a piece of chicken, dredge it in the flour, shake the excess off, now dredge the chicken in the egg, then back in the flour. Place it on a rack in a sheet pan. Repeat this step until all the chicken pieces are coated.
Take the pan out of the oven and put in on the stove, medium heat. Lower the oven to 250.
Add in 1/4 cup oil to the hot skillet.
Place 3 pieces of chicken in the hot oil, cook 3 minutes a side or until golden brown.
Put the cooked chicken on a tray and in the oven to keep warm.
Add the remaining 1/4 cup of oil to the pan, add in 4 tablespoons of the seasoned flour to the hot oil. Whisk so no lumps form. Cook for 2-3 minutes.
Carefully but quickly pour the milk into the pan with the flour and oil, whisk to avoid lumps. Continue to whisk until the gravy is thick and creamy.
Taste and adjust the seasoning as needed.
Take the chicken out of the oven, place on a platter, pour the gravy over the top and garnish with the fresh parsley. serve and enjoy.
7.8.1.2
130
http://thecampgroundgourmet.com/cast-iron-chicken-fried-chicken/