Bite into a camp waffles recipe that will satisfy your breakfast sweet tooth.
I'm sitting in my camp chair in the open air, with bright sunshine streaming through the trees and a big cup of coffee in my hand as I watch the flames of the campfire. That's how I'd describe my perfect camping morning. But if I asked my children to describe their perfect camping morning, they'd yell out, "Hot chocolate and WAFFLES!" They love the waffles' golden color, crisp texture and deep wells for the syrup to pool in. I like waffles because they're simple to make, and I can sip my coffee while I pour batter into the waffle maker and not worry about burning them like I sometimes do with pancakes.
My daughter is a waffle expert; she knows what she likes and isn't afraid to tell me her thoughts when I'm testing a new recipe. Honestly, she's a purist: vanilla in the batter, maple syrup flooding the golden waffle, possibly a touch of whipped cream. Now, my son is the foodie. He likes when I change up ingredients and come up with new waffle batter recipes. To date, his absolute favorite is my sweet cornmeal waffle, with a slight bit of an extra crunch. A very subtle roasted sweet corn taste is present, and I feel that yellow cornmeal has a richer flavor over white cornmeal.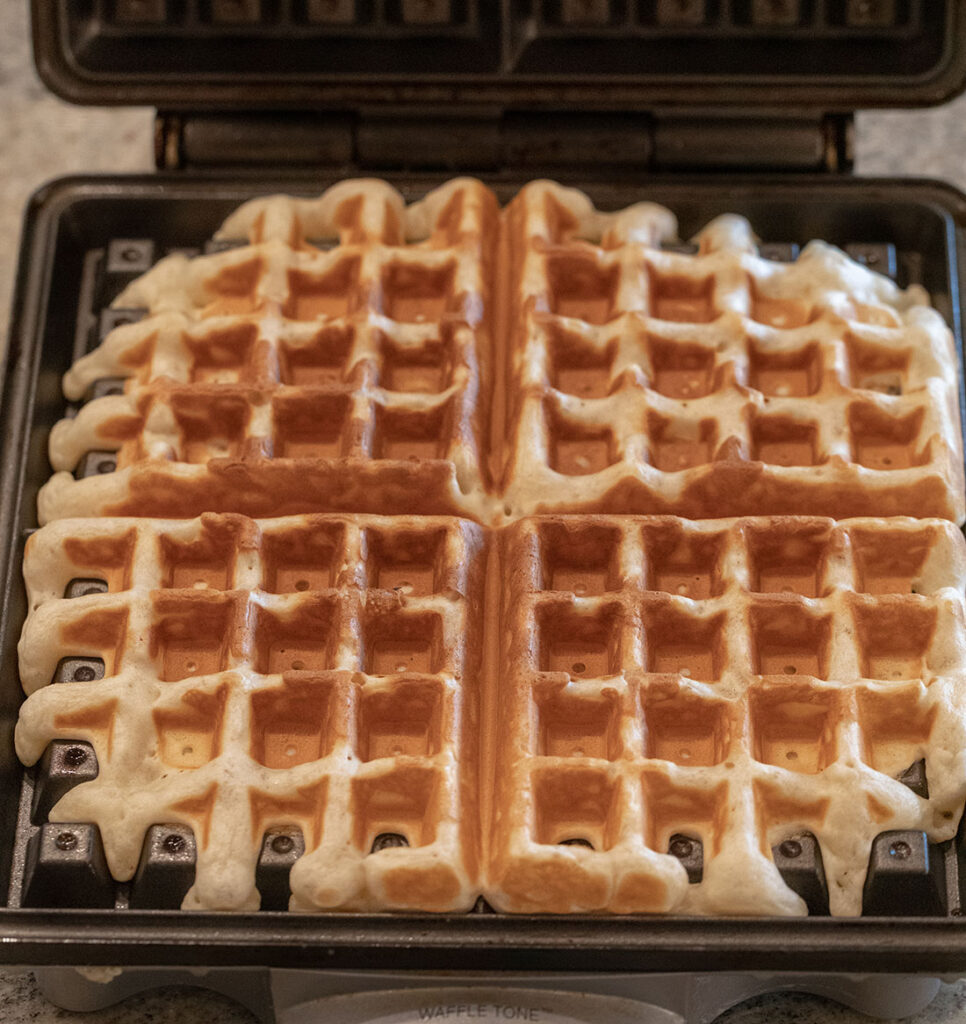 Change It Up
Simple additions to waffle batter like browned butter, pumpkin pie spice, pearl sugar, bran, citrus zest and even cocoa powder make this meal exciting and flavorful. Using a boxed waffle mix helps the camp chef get breakfast prepared in no time, but homemade waffle batter truly is simple to make, and it tastes better than any box mix you can find.
One of the preferred toppings for cornmeal waffles has to be a rich and thick homemade caramel sauce. I love caramel sauce's flavor, chestnut color and simplicity to make, and it keeps in the fridge for about two weeks. It consists of granulated sugar that's cooked down, a touch of cream, vanilla and a pinch of sea salt. This topping can be made in advance and taken along to your next campout vacation.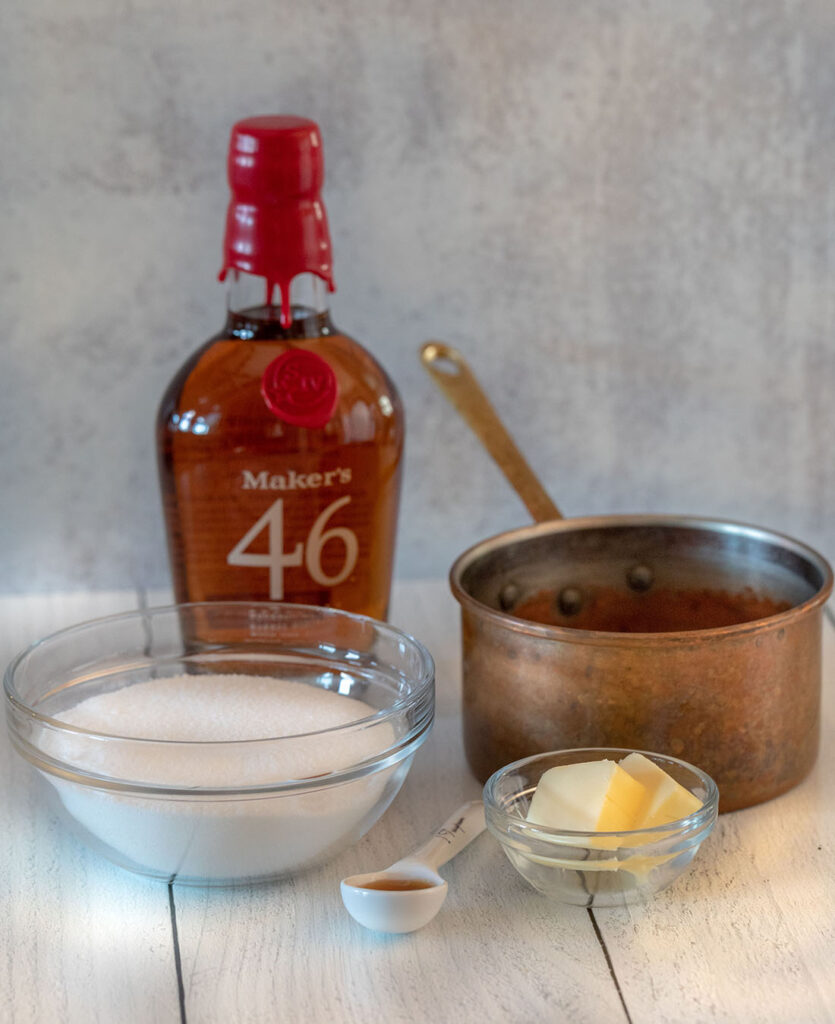 Bourbon Makes It Better
I really changed up my homemade caramel game after I visited Kentucky last summer. I overheard one employee at Buffalo Trace Distillery talking about a batch of caramel sauce she made with bourbon in it for their pancakes. Right away, I started to write notes about what bourbon I would try to add in my recipe. Then I started to think about what I was going to add this delicious creation to. Everything from ice cream, pancakes, waffles and even a drizzle over my oatmeal. Honestly, the possibilities are endless for caramel sauce.
When sugar is melted over heat for caramel, it develops this beautiful deep color just like bourbon does while it's aging in the charred new oak barrels. The natural sugars in the whiskey mash also taste similar to melted sugar. So finding a bourbon that had a good smoke flavor with a touch of sweetness was the key to adding yet another layer of flavor to this delicious waffle topping. I found through testing that Maker's Mark was the best additions to the caramel sauce. Rich and flavorful, lightly smoked, good amber color and a beautiful floral and vanilla note worked perfectly with the sugar, butter, cream and vanilla.
Waffle Perfection
What makes the perfect waffle? Is it the tang of buttermilk, the nuttiness of the butter, whisked egg whites for that light and airy texture? Yep, it's all of that and more. Here are some hints, suggestions and tricks to improve your waffles for your hungry campers:
No buttermilk, no problem. Make homemade sour milk by adding 1 tablespoon of lemon juice to the amount of milk needed for the recipe. Mix with a spoon and allow it to sit for a few minutes.
A room-temperature egg white whips up faster than a cold one.
Belgian-style waffle makers make the best waffles; they're crispier and thicker.
Don't stack your waffles to keep them warm; they will get soggy because of the steam.
Always heat your syrup or topping. Your waffle stays warm, and the butter melts faster.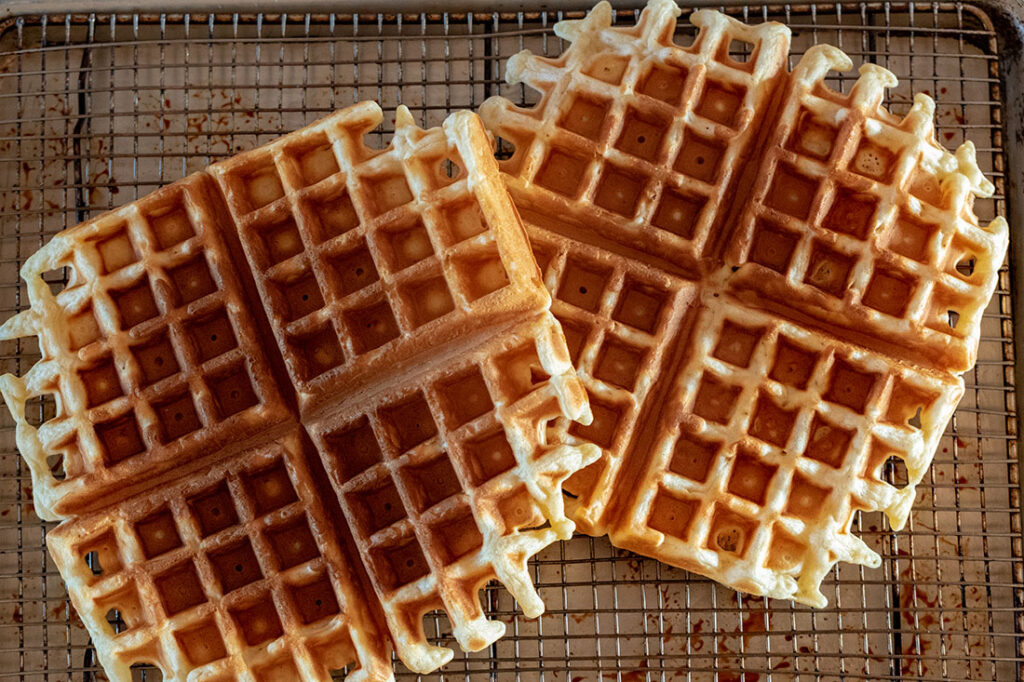 Make Ahead for Ease
Making your waffles at home and bringing them to the campground is a breeze and such an amazing timesaver in the mornings. Place the cooked waffles out on a wire cookie rack to cool completely, place in zip-top bags with parchment paper or waxed paper between each one and freeze up to a month. Once you're at the campground, all you need to do to thaw the waffles is heat a cast-iron skillet. Cook each waffle in the pan for about 3 minutes a side or until it warms them through.
How About Something Extra
Remember, these waffles are not too sweet, so using them in place of bread is a great idea. You can grill up some chicken tenders to make chicken and waffles. How about using the waffle in place of graham crackers for campfire s'mores? The charred marshmallow and chocolate just melt into the waffle wells. Let's talk lunchtime. What about a grilled ham and cheese sandwich, pizza crust, panini sandwiches, quesadillas and my favorite, a BLT sandwich. The possibilities are endless and the next time you have guests over or your kids do, create a waffle bar with toppings and spreads.
Campground Cornmeal Waffles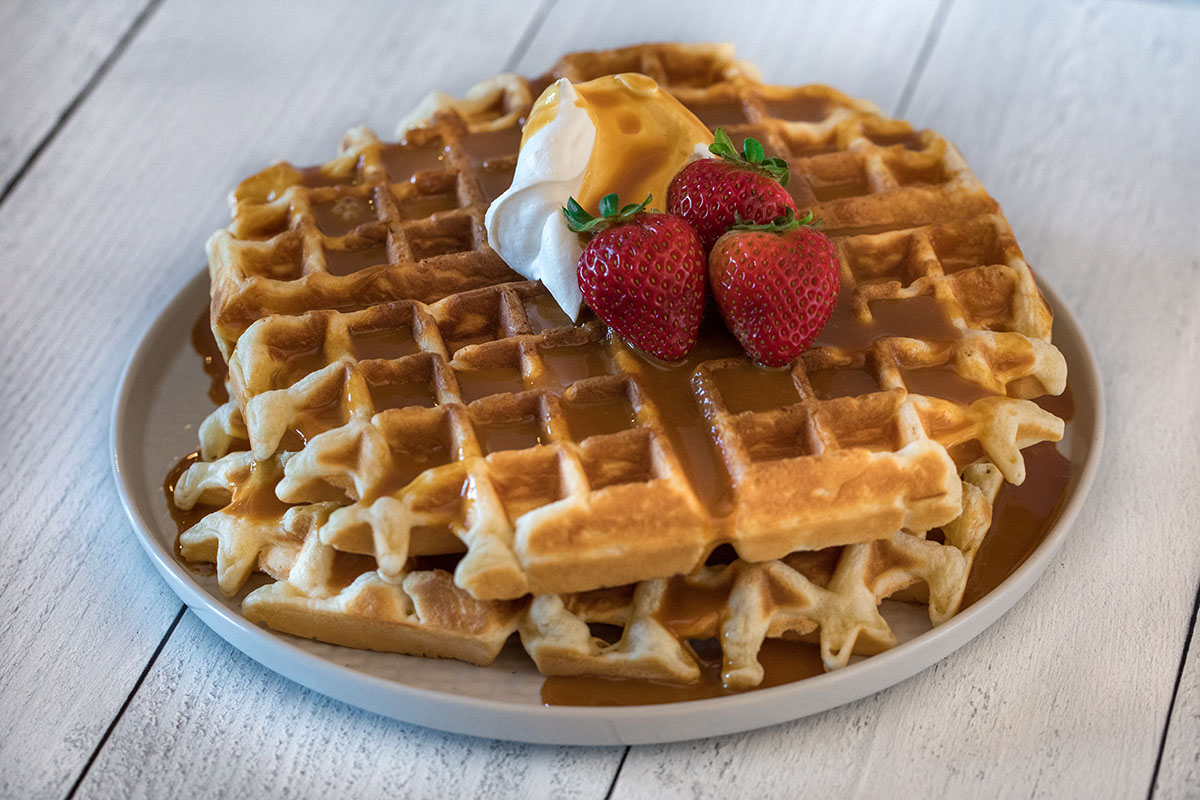 Ingredients
2 cups unbleached King Arthur all-purpose flour
1 cup yellow cornmeal
1 tablespoon baking powder
2 tablespoons granulated sugar
1 teaspoon sea salt
2 cups buttermilk
3 tablespoons oil (vegetable, corn, grapeseed)
2 eggs, separated
2 teaspoons vanilla extract
Instructions
In a medium-size mixing bowl, add all the dry ingredients (flour, cornmeal, baking powder, granulated sugar and sea salt) and mix well.
In a second mixing bowl, whisk the buttermilk, oil, egg yolks and vanilla.
In a third bowl, whisk the egg whites with a pinch of sea salt until foamy and can hold a soft peak.
Pour the wet ingredients into the dry ingredients and stir until just combined. Fold in the egg whites and set aside for 15 minutes while your waffle maker preheats.
When your waffle maker is hot, lightly spray with nonstick cooking spray.
Depending on your waffle maker add ¾ to 1 cup of batter to the hot waffle maker and cook according to the manufacturer's directions.
Notes
Caramel Sauce
2 cups granulated sugar 1 cup heavy cream 4 tablespoons softened, unsalted butter 1½ teaspoons sea salt 2 tablespoons bourbon (Maker's Mark or Basil Hayden's) optional** 2 teaspoons vanilla ½ cup water
Instructions
In a heavy-bottom medium-size saucepan set over medium-high heat, add in the granulated sugar and water. Stir to combine.
Cook without stirring for 10 minutes until the sugar has turned a deep amber color.
While the sugar and water are cooking, warm the heavy cream and butter in a small saucepan until the butter has melted.
After the sugar has melted and cooked for 10 minutes, lower the temperature to medium-low. Carefully and slowly whisk in the warmed heavy cream and butter. Cook an additional 2 minutes, continue to whisk.
Turn the heat off, whisk in the bourbon and vanilla, and then add the sea salt, stir and carefully pour into a heatproof container and allow to cool for a bit.
Can be kept in the fridge for up to 12 days. When reheating, you may need to add a tablespoon of water to loosen the caramel sauce.
**While most of the alcohol in the bourbon will evaporate when added to the hot caramel sauce, there will be trace amounts of alcohol left in the sauce.
7.8.1.2
136
http://thecampgroundgourmet.com/campground-cornmeal-waffles/
Original Post: Good Sam 7/20/2019