This recipe is one of those old fashioned New Orleans meals, that everyone craves! Thick, rich and full of flavor. Perfect for a dinner after a day of camping to keep you full and comforted!!
We have included the classic trinity, spiced andouille sausage and the perfect seasoning with just a little spice.  A deep rich red roux is key, pay attention to that step and watch your campfire, make sure it is not too hot or it will indeed burn.
Simply shredding a rotisserie chicken you can find in any grocery store saves you a lot of time in food prep. This is the perfect meal for fall camping or that tucked away campsite in Olympic National Park with all the shade, large trees and cool nights.
Cook this baby in cast iron over an open flame or even on your Coleman grill top. This is a super flexible and fast cooking dish that makes everyone in the family happy!
Serve over white rice and pour yourself a glass of wine while it simmers!
Yields 6-8
Campfire Chicken and Sausage Gumbo
Sitting around a campfire eating a rich and hardy bowl of gumbo is the perfect meal at the campground, this rich and delicious stew was created with the backbone being the holy trinity; onions, celery and green bell pepper and andouille sausage. The smokey flavor it delivers in every bite, the bright warming spice swirling in that silky layered broth.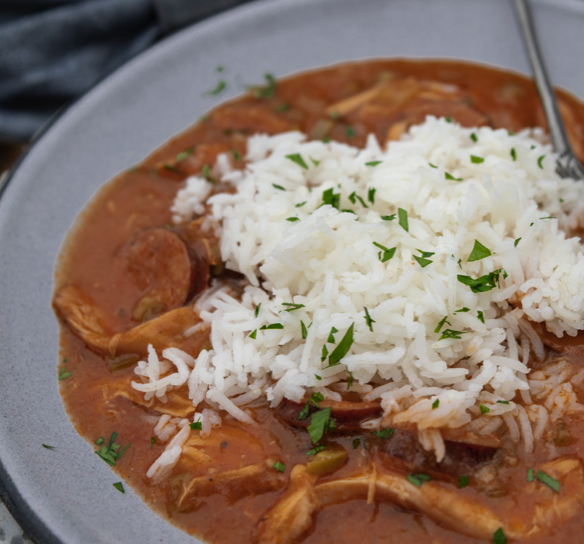 Ingredients
1 pound Andouille sausage, cut into 1/4 inch round slices
1 cooked whole roasted chicken, shredded both dark and light meat
1 cup vegetable oil
1 cup unbleached all purpose flour
1 medium yellow onion, diced fine
1 green bell pepper, diced fine
2 stalk of celery, diced fine
1 box low sodium chicken stock
1 14.5-ounce can petite diced tomatoes
2 cups water
6 garlic cloves, minced
2 tablespoons Worcestershire sauce
3 teaspoons Cajun seasoning
2 bay leaves
1 teaspoon Louisiana hot sauce
½ teaspoon dried thyme
Cooked Rice
Instructions
In your hot Dutch oven add the oil and flour whisk constantly to prevent burning. You are looking to cook it until a toasted pecan color develops. Stir in the onion, celery, and green bell pepper. Cook for 5 minutes.
Add in garlic, tomatoes, Worcestershire, chicken stock, water, seasoning, bay leaves, thyme, sausage, and cooked chicken. Bring mixture to a boil, carefully move the Dutch oven to an area where the gumbo can simmer with out boiling over. Cook for 1 hour, stirring every 10-15 minutes. Taste and adjust seasoning.
Serve in a bowl with cooked rice. Garnish with chopped green onions, parsley, hot sauce, or Cajun seasoning.
Notes
Build your campfire. Place a cooking grate over the coals when the flame has died down and the coals are covered in white ash. You can also cook directly on the coals, just watch the Dutch oven constantly to prevent burning.
7.8.1.2
2
http://thecampgroundgourmet.com/campfire-chicken-and-sausage-gumbo/