This buttermilk biscuit recipe is full of rich butter flavor and the wonderful tartness buttermilk brings to any baked item. Tall and tender, these biscuits will have your friends and family back for seconds possibly thirds. Using pantry staples and refrigerator ingredients, this recipe is assembled and baked in under 45 minutes.
Buttermilk
Chances are if you have a carton of buttermilk in the fridge you will make biscuits, pie dough or pancakes. Not too many people drink buttermilk unless you live on a dairy, then the flavor of that fresh buttermilk is like no other. When I was young, I remember going to the Chase Brothers Dairy in Oxnard, California, for our milk and butter. Sometimes, my mom would get a quart of fresh buttermilk, that byproduct from the butter churned on site. Thick and creamy with bits of butter floating suspended in the liquid, I loved to drink it as a kid. I'm guessing because my grandfather drank it all the time, he even poured it over his cornbread for breakfast.
But something happened quite a few years ago. The rich, tangy and butter speckled buttermilk changed. Most dairies today inoculate fresh, pasteurized milk with cultures that turn it into the buttermilk we buy at the stores in cartons today. So you have two choices for baking with buttermilk. First, go buy a carton at the store or second, buy a container of SACO buttermilk powder. My choice for baking with buttermilk is using the SACO buttermilk powder. But if I'm making a buttermilk brine, salad dressing or adding it to mashed potatoes, I will use the liquid buttermilk from the dairy case at my grocery store.
Biscuit Love
Layers and layers of buttery goodness, that's the perfect biscuit to me. A crisp outer texture with a soft and light interior. My family can eat baskets full of fresh out of the oven buttermilk biscuits any day of the week. Top them with a bit of sugar for a sweet topped biscuit or flakey sea salt for an extra crunch when you bite into them. I've added pumpkin pie spice, apple pie spice, ground black pepper and Montreal steak seasoning to the flour to add a different flavor. Don't forget the rich chocolate sauce, fresh out of the oven buttermilk biscuits and a rich dark chocolate sauce is magical.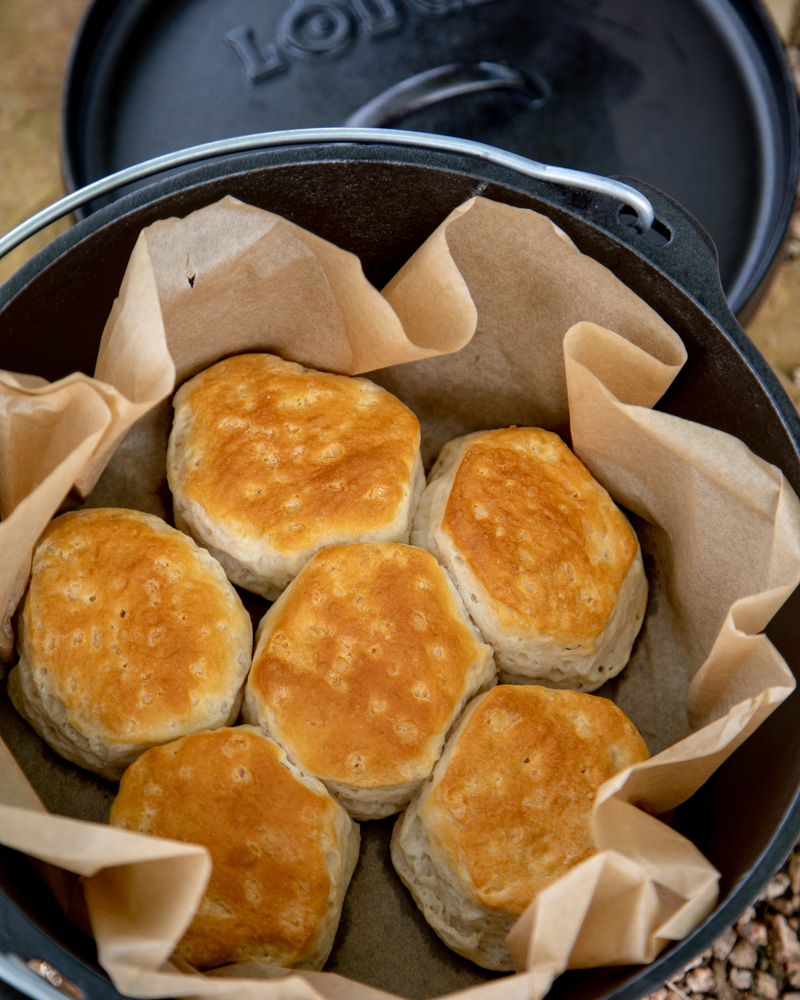 Ingredients
4 cups unbleached all purpose flour
3 ½ teaspoons baking powder
1 teaspoon baking soda
1 teaspoon kosher salt
1 cup cold unsalted butter, cut into small cubes
2 cups cold buttermilk
4 tablespoons unsalted butter, melted
Instructions
Preheat oven to 450 degrees F
Line a baking tray with parchment paper, set aside.
In the bowl of a food processor add the flour, baking powder, baking soda and salt together, pulse 3 times to mix the ingredients together.
Add the cold butter pieces to the flour, pulse the mixer 4 times, each pulse should be 3-5 seconds. The mixture should look like coarse crumbs.
Place the flour and butter mixture in a large bowl, add in the buttermilk and stir to combine.
On a generously floured surface, turn out the dough and gently knead until the dough comes together. Pat the dough into a large rectangle shape about ¾ inch thick.
Use a 2-2 ½ inch biscuit cutter and cut out as many biscuits as you can, about 12-14. Gently press the scraps together and cut out the last few biscuits.
Bake for 12-15 minutes or until the tops are golden brown. Remove the hot biscuits from the oven and brush the tops with melted butter.
7.8.1.2
113
http://thecampgroundgourmet.com/buttermilk-biscuits/