The Best Homemade Blackberry Syrup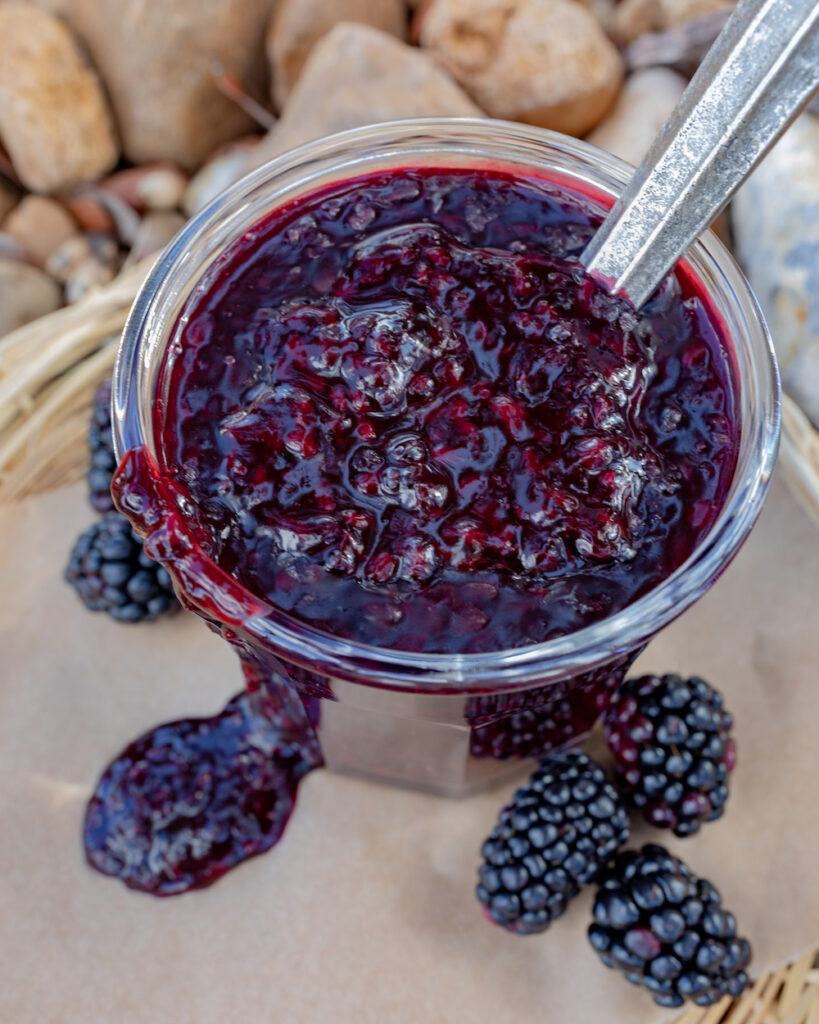 The best homemade blackberry syrup is delicious and is so easy to make at home I always select the largest, juiciest, sweetest blackberries I can find.
Once the blackberries have been cooked down the rich and thick jam is the darkest deep black-blue-purple color and just gorgeous. Could there be a better topping for waffles, ice cream, sandwiches, muddled up for cocktails, cheesecake, crepes and even used in BBQ sauce or glazes for grilled meats.
A Family Memory
One of my favorite summertime jobs when I was a kid was to help my mom sort and wash all the blackberries we bought at our local the farm stand. I would wash a basket full then sneak a few tastes just to make sure they were perfect.
Blackberry sauce was our go to way to process all those berries, that sweet and tart  topping was easy to make with the simple ingredients we already had on hand.
After cooking the blackberries in sugar and a few spices my mom would take out a potato masher and press all the large blackberries until they completely broke down and released every bit of juice.
Then she would fill all the jars up and process them in a water bath to preserve their freshness. Our pantry would be filled with rows of beautiful Ball Mason Jars filled with that blackberry syrup, it was the perfect topping to my homemade ice cream. But the true purpose of that family homemade blackberry syrup was to include it in the Christmas baskets my mom would make for her special friends and family members.
Today I make my blackberry syrup with my children, continuing to pass down the tradition and gift it to friends, below are a few recipes I think will help you capture this syrups delicious and bright flavor. Enjoy.
Try my other recipes that will compliment this syrup…
Ingredients
3 pints fresh blackberries or 1, 16 ounce bag of frozen blackberries
1 cup sugar
1 teaspoon vanilla extract or vanilla bean paste
½ teaspoon fresh lemon juice
¼ teaspoon lemon zest
Instructions
Place all ingredients into a small saucepan, cook over medium heat until the blackberries are broken down and the syrup is thick, about 20 minutes. Make sure to stir gently every 3-5 minutes. Turn off heat and set aside until ready to use.
7.8.1.2
35
http://thecampgroundgourmet.com/blackberry-syrup/