Who doesn't love the smell and sound of bacon cooking away on a griddle at the campground? I don't know about you but my children go crazy when the pancake batter ingredients come out, they know something tasty is head their way for breakfast. 
Well, one morning I kept a piece of bacon on the griddle after it was cooked, then I poured the pancake batter all around it, I cooked it until the pancake batter was set then I handed it to my son and said take a bite. The look of complete surprise as he bit into that golden pancake with the hidden piece of bacon in it. The moment was golden, I topped it off with a bit of syrup in a small cup for him to dunk the new camp breakfast food in. 
It's now a staple of our campground morning meals and I know it will be yours too. A few hints for your pancake dipper success. Cook thick cut bacon, it holds its shape inside the pancake better than thin cut. When you are pouring the batter, make sure to create an outline first then fill in the shape. 
Bacon Pancake Dippers
Pancakes and Bacon are a family staple no matter who you ask!! This super simple recipe is great for weekend camping trips or even weekends at home. Get the kids to help and you've got it made!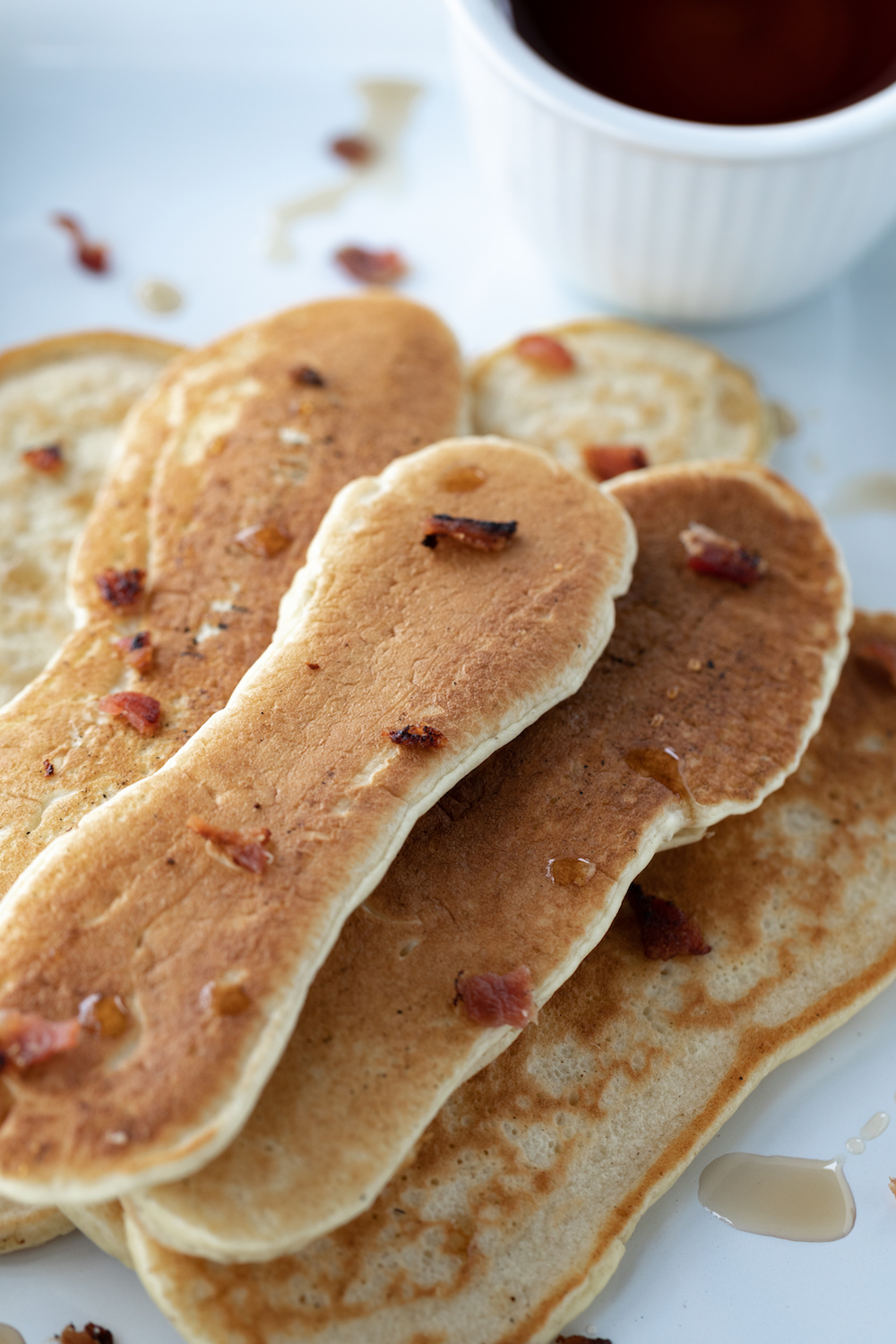 Ingredients
1 large egg plus one egg white
1 ½ cup buttermilk
2 tablespoons melted unsalted butter, cooled
1 ½ cups unbleached all purpose flour
½ teaspoon salt
2 teaspoons aluminum free baking powder
3 tablespoons granulated sugar
¼ teaspoon nutmeg
1 pound thick cut applewood smoked bacon
Instructions
Heat the griddle to medium- high heat. Place strips of bacon on the hot griddle, and be careful of grease splatter. Cook for 5-7 minutes per side. Remove and place on a paper towel lined plate with foil covering the top to keep the bacon warm.
In a medium bowl, whisk together eggs and buttermilk add melted butter and whisk for 30 seconds, set aside.
In a large bowl, whisk together all the dry ingredients.
Add the buttermilk mixture to the flour mixture and gently mix until all the ingredients are wet. There will be lumps.
Take your cooked bacon and place it back on the hot griddle, leaving about 3" of space between each strip. Cook only 6 strips at a time until you are comfortable with more. Carefully pour pancake patter over the bacon in a long oval shape and allow to cook until small bubbles form on the surface and the edges are set, about 2 minutes. Flip the pancake over and cook 2 minute longer.
Pour your favorite syrup in a small mason jar or other small bowl for you to dip the bacon pancake dippers in.
7.8.1.2
4
http://thecampgroundgourmet.com/bacon-pancake-dippers/