Citrus grilled shrimp is the perfect meal cooked on the grill in the summer. With a bright and slightly spicy Asian citrus marinade, the caramelization that occurs on the grilled shrimp will impress everyone. The flavor of that char helps add a depth to shrimps natural sweetness, it's unbelievable.
My youngest son loves shrimp. I think if he could eat it every night he would do so. He loves that it is a finger food, or a skewered food. I love that I can create just about any flavored marinade or sauce to add to its natural sweet and briny flavor. From Asian to Italian, Greek to Indian the flavors you can add to shrimp are amazing.
Asian Flavors and Influence
If I had to pick a favorite flavor profile I feel that Asian inspired spices and sauces would be it for me. I love a rich miso paste for salmon, broths or additions in marinades. Lemongrass brightend any soup, marinade or hot cup of tea. Cilantro, its not only a main ingrediant in Mexan cooking it is the dominate leafy herb in most Asisn dishes. Scheshuan peppers add heat and a bright citrus taste. There's a food term us Chefs use, and it's Umami. That word encompasses a complex flavor profile that balances salty, sweet, bitter, meaty and savory. Some of the best examples of Umami flavors.
Roasted unsalted tree nuts
By using soy sauce I'm bringing a rich umami flavor to a very sweet ingredient, the shrimp. Remember, every dish you create should have a perfect balance of salt, fat, acid and heat to it. With the addition of fresh ginger, garlic and sriracha sauce they compliment the salt in soy sauce and add the balance of heat to the marinade. The toasted sesame oil is the fat component and the acid from the orange juice finished the marinade perfectly.
Changing It Up
Some home cooks and campers don't enjoy the cleaning process of shrimp and some individuals are allergic to seafood. Here are ways you can easily swap out the shrimp for a different protein choice.
Chicken tenders, marinate whole chicken tenders for an hour, then thread them on the skewers and grill.
Beef, purchase a piece of chuck, trim it down into 1-2" pieces, marinate the beef  for 3 hours then thread on the skewers and grill.
Vegetarians will love this marinade on mushrooms, zucchini, onions, bell peppers and bok choy. Marinate up to an hour and place on the grill and cook until done.
I have made this recipe in a cast iron skillet, grill pan and griddle, you can too. I suggest a bright and crisp Asian coleslaw or grilled pineapple to go along with the skewers, coconut milk rice is a delicious starch to accompany this meal with. You can make a ramin crunch salad or a pickled Asian cucumber salad. The choice is up to you, be as creative as you want.
Quick Tip
You can make this marinade up to 3 days in advanced, it can also be simmered over low heat to concentrate the flavors into a thick glaze perfect to top grilled burgers, grilled chicken or vegetables with.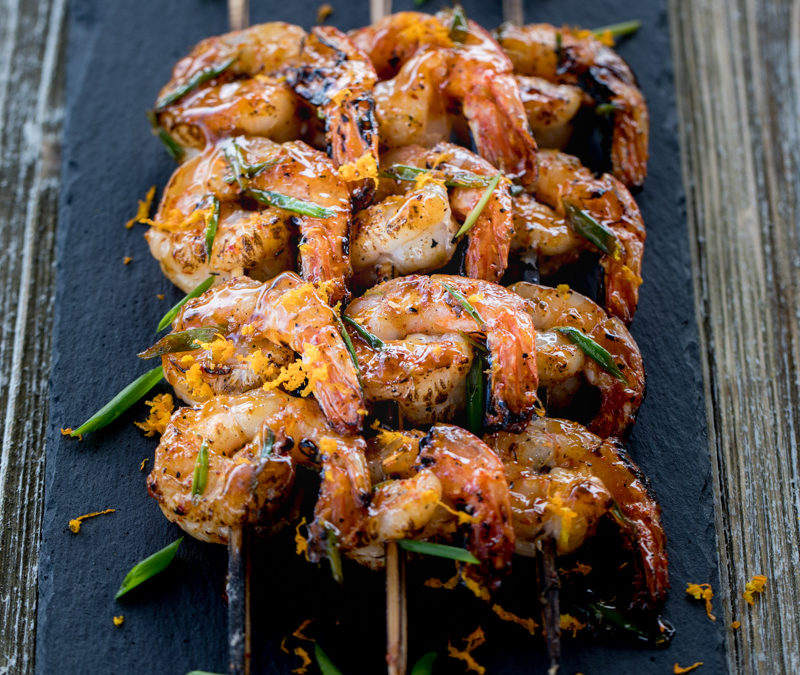 Ingredients
2 pounds raw shrimp, shells removed and deveined
½ cup low sodium soy sauce
¼ cup sweet chili sauce
1 orange, juiced and 1 teaspoon of zest reserved
¼ cup water
2 garlic cloves, minced
2 tablespoons chopped ginger
1tablespoon green onions, chopped, green tops only
1 teaspoon Sriracha sauce
6-8 wooden skewers
Instructions
In a small bowl mix the soy sauce, sweet chili sauce, water, garlic, ginger, orange juice and green onions together.
Remove ¼ cup of the sauce and place in a small bowl covered and in the refrigerator, this will be your basting sauce while the shrimp cooks.
Place cleaned shrimp in a large zip top bag, pour marinade over shrimp, close the bag and place in the refrigerator for 1 hour to marinate.
Use metal or wooden skewers, if using wooden skewers soak in water for at least 30 minutes. Place 8 to 10 shrimp onto each skewer.
Heat your gas grill to medium high heat, preheat for 15 minutes, clean and oil the grill grates.
If using charcoal, fill one charcoal chimney full of charcoal and light it, once the charcoal is covered in a light grey ash pour it out in the center of your barbecue.
Place the grill over the hot coals and allow to heat for 15 minutes, brush and oil the grill grate.
Remove the shrimp from the marinade and thread on the soaked skewers. Remove the reserves marinade from the refrigerator and add the orange zest to it, stir well.
Cook shrimp 1 ½ to 2 minutes, turn over and baste with the marinade.
Cook the other side for another 1 ½ to 2 minutes shrimp will be pink, opaque, and firm.
Just before removing from the grill baste both sides with the marinade.
Remove from grill, place on a platter and garnish with some fresh chopped green onions, serve right away.
7.8.1.2
105
http://thecampgroundgourmet.com/asian-shrimp-skewers/