This delicious and simple to make bread dough will have you smiling ear to ear. From sandwich bread, dinner rolls, pizza dough and cinnamon rolls versatility is the name of this dough. What better way to surprise you family and friends than with a fresh out of the oven loaf of homemade bread? You can add in nuts, dried fruit and even herbs and spices, this is a beginning bakers dream dough.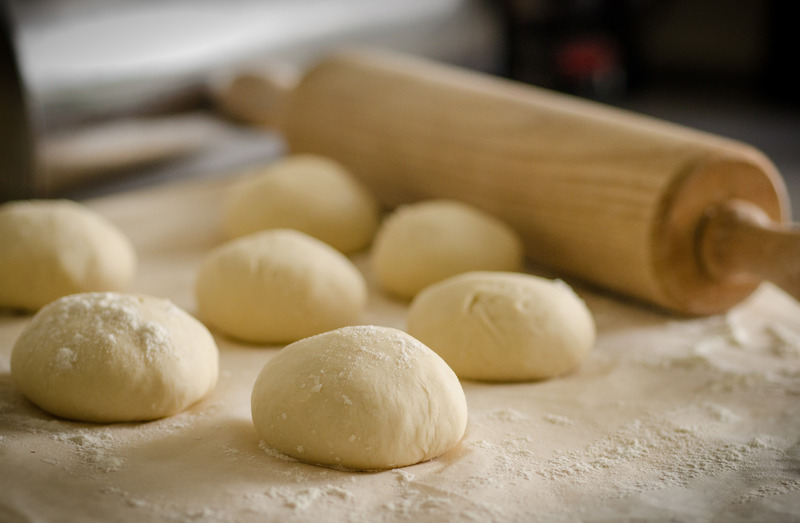 Made simply with pantry ingredients, you can have dinner rolls on the table in under 3 hours, start to finish. If you are not certain what to stock in your pantry, I created the Master Pantry List just for you. Every item you could possibly need to make this mouth watering and delicious bread as well as some flavorful additions are listed in that printable for you.
If you enjoy this recipe you should look at these, this bread would be perfect to serve alongside any of them, enjoy.
Adding Additional Flavor
Wouldn't it be perfect to add some herbs, garlic or olives to that no knead overnight bread? Or what about pecans to the cinnamon rolls? Substituting some unbleached flour for whole wheat flour would be perfect, don't you think? Keep reading because I have the substitutions, and additions ready for you below.
Add in 1-2 teaspoons of your favorite dried herbs or salt free seasoning mix to the flour and mix well.
Adding grated cheese to the dough for bread rolls is delicious. Add ½ cup shredded cheese to the flour and toss well to coat. Add in the liquid and proceeded to the next step of the directions.
½ cup of dried cranberries, raisins, chopped apricots or dates added to your cinnamon rolls, or bread dough will be delicious. Just add those ingredients to the flour, mix well to coat before adding the liquid.
Adding 1/2 cup of chopped nuts such as walnuts, pecans, almonds, and pine nuts add great texture to bread. Place the chopped nuts in the flour mixture, toss to coat before adding in the liquid.
Roll bread dough into a rectangular shape. Spread about  ½ cup of pesto sauce over the surface of the on the dough.Next roll and shape as per the bread loaf instructions for a pesto swirl bread loaf.
Replace 1/2 cup of the unbleached flour with unbleached whole wheat, ground oatmeal, buckwheat or rehydrated grain cereal. Remember when replacing some of flour you may need to increase the rise time by 30 minutes.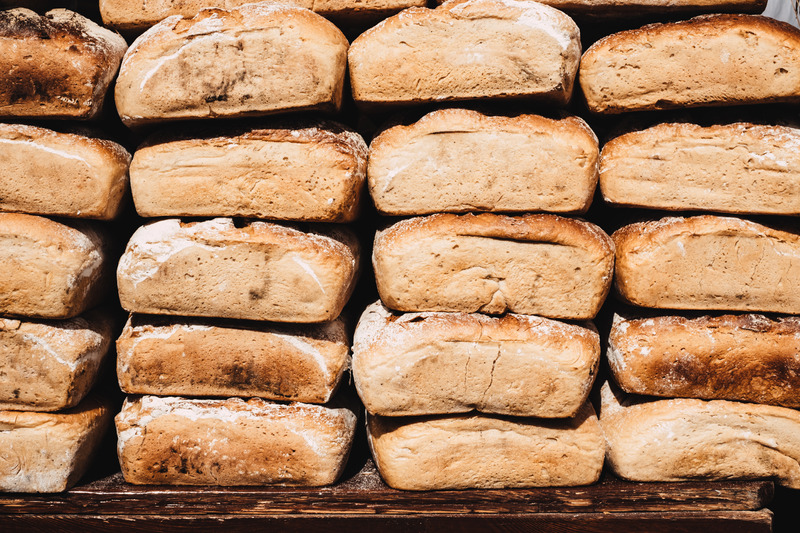 Ingredients
1 packet active dry yeast1 teaspoon granulated sugar or honey
1/2 cup warm water 105-110 degrees F
4 cups unbleached all purpose flour
1 teaspoon salt
1 cup water or milk, room temperature
2 Tablespoons canola, vegetable or sunflower oil
Instructions
In a measuring cup, mix the yeast, sugar and 1/2 cup warm water together and let it sit for 5 to 10 minutes. It will be foamy and bubbly.
In a large bowl, add your flour and salt, mix well and set aside.
Once the yeast is proofed, pour it into the flour along with the additional water or milk and then add the oil. Gently mix the dough with a spoon or a dough whisk until a rough ball forms.
Kneading dough: add a light layer of flour on the counter or other flat surface like a large wooden cutting board or bread board. Place the dough on the floured surface and sprinkle the top of the dough with a bit of flour.
Gently knead by pressing the heel of your hand into the dough and then folding it over and rotating the dough. Only add additional flour if the dough is wet or very sticky. Knead for about 5 to 10 minutes until dough is smooth and elastic.
Grease a clean bowl with about 2 teaspoons of oil, the same you used in the recipe, cover all the bowls surface.
Add the bread dough to the greased bowl and turn over to coat all sides, place a warm,damp towel over the top of the bowl and allow it to rise for 1 to 1 ½ hours or until doubled in size.
Once the dough has risen, you have a few choices to make; make two loaves of bread or pinch off 48 bread rolls or roll out the dough for cinnamon rolls or freeze the dough. The directions to each of those suggestions are below.
Loaves of Bread
Grease two bread loaf pans with oil or cooking spray, set aside.
Once dough has risen, gently turn the dough out onto a lightly floured surface, divide dough into two pieces. Softly pat the dough into a rectangle shape, if the bread resists just let it rest for an additional 5 minutes and try again.
Once you have your rectangle shape gently roll the bread dough into a log shape, rolling from the short end of the rectangle. Place the bread roll in the greased pan and let rise 45 minutes to 1 hour. Turn your oven onto 350 degrees F while the bread dough is rising.
Bake for 30 minutes or until an instant-read thermometer reads 195-200 degrees F. Take the bread out of the oven and allow to cool for 5 minutes. Remove the bread from the pan, place the loaf on a cooking rack and continue to cool for 2 hours before slicing.
Cinnamon Rolls
Grease a sheet pan, rectangular pan or pie pans (2) with softened butter and set aside.
After the bread dough has risen the first time lightly flour your counter or work surface and turn out the dough onto the flour and dust the top of the dough with a bit of flour.
Flour your rolling pin as well and roll out the bread dough into a rectangular shape that is ¼ inch thick. Once rolled out, allow it to rest for 5 minutes while you assemble the next ingredients.
Melt ½ cup unsalted butter set aside. In a bowl add 1 cup granulated sugar and 2 teaspoons ground cinnamon, mix well and set aside.
With a pastry brush, spread the melted butter all over the dough, then sprinkle the cinnamon sugar over the buttered dough.
Begin rolling the bread dough from the long end until you reach the bottom of the dough rectangle, pinch the seam together and slice the cinnamon rolls to your likeness.
Cover with a towel and let rise for 1 hour or you can wrap the pan with plastic wrap and allow it to rise overnight in the refrigerator. Just take it out of the fridge 1 hour before baking to come to room temperature.
Bake at 350 degrees for about 30 minutes or until light brown and bubbly.
Bread Rolls
Line a baking sheet pan with parchment paper and grease with melted butter, oil or cooking spray, set aside.
After bread dough has completed the first rise, turn out the dough on a lightly floured surface. Knead gently for 30 seconds, squeeze out a golf ball size (2 inches) piece of dough between your thumb and index finger.
Place the dough ball on the greased sheet pan and continue to place the dough balls in rows, almost touching each other until the sheet pan is filled.
Cover loosely with a piece of plastic wrap and let rise for 1 hour.
Bake at 350 degrees for 20-30 minutes until the rolls are golden brown.
Once rolls are out of the oven, melt 1/3 cup butter and brush over tops, sprinkle a bit of flaky sea salt or chopped fresh herbs and garlic to add additional flavor.
7.8.1.2
110
http://thecampgroundgourmet.com/all-purpose-bread-dough/